Counter Offence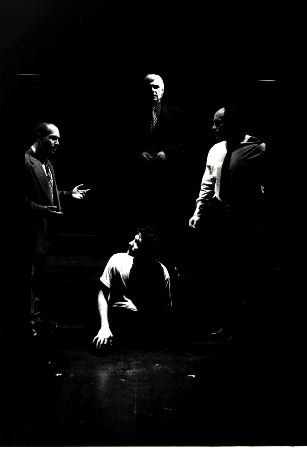 A scene from the original production of Counter Offence
Drama in one long act by Rahul Varma, first performed by Teesri Duniya Theatre at the Strathearn Intercultural Centre, Montreal, March 14, 1996, with Raminder Sing, Cas Anvar, Judy Rudd, Steve Orlov, Mark Walker, Prasun (Raja) Lala, Kapil Bawa and Ranjana Jha, directed by Jack Langedijk, set and lighting designed by J. David Gutman, costumes by Rossana Higgins.
Textured, complex, resonant and thoroughly theatrical work about an Iranian immigrant who beats his wife and is arrested for it. The drama then moves, quite efficiently, beyond the domestic drama to the parallel ones of police brutality, the decay of our social network and the racism that pervades all of this. However, the work does not lack a sense of humour, mostly in the character of a slick lawyer.
Varma skilfully juggles a wide range of social/political issues and creates a work of ethnic theatre that also depicts personal and family problems.
The opening night of the work was electric, as Varma, active as a director for Teesri Duniya Theatre, displayed a notable evolution of his powers as a playwright. The work has been translated as L'Affaire Farhadi, and was performed at Théâtre la Licorne in February, 1999 to unanimous praise in French and English. It has also played to substantially larger audiences.
The La Presse critic exclaimed, "At last theatre which is not afraid to treat people born on two sides of the globe who still live side by side in Montreal..." It was subsequently performed in Vancouver, at Firehall Arts Centre, February, 2000, directed by Donna Spencer. Colin Thomas, of Georgia Straight wrote of the production, "Rahul Varma took my predetermined positions on racism, sexism, police brutality, and family violence and played them against one another so expertly that I was forced to reexamine them all. That's quite a feat." In March 2020, it was remounted at Segal Centre for Performing Arts (dir. Arianna Bardesono).
Commentary by Gaetan Charlebois.
Last updated 2020-04-17