Curran, Colleen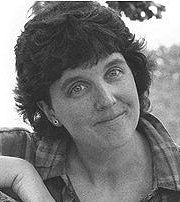 Quebec-based anglophone playwright born in Montreal in 1954.
Prior to becoming a professional writer, Colleen Curran worked as a copywriter, a school teacher, a magazine writer and researcher at the CBC.
In 1984, she was playwright in residence at the Centaur Theatre while her work began to be produced across Canada and in the United States especially at the Blyth Festival where Curran is a local favourite. Blyth has produced Cakewalk (1984 directed by Katherine Kaszas); Moose County (1985, directed by Terry Tweed); Miss Blamoral of the Bayview (1987, directed by Tweed); Local Talent (1990, directed by Maja Ardal); and Ceili House (1993, directed by Patricia Vanstone).
Curran also writes for radio. In 1996 she published her first novel, Something Drastic, and its theatrical adaptation opened in April, 2002, at the Prairie Theatre Exchange. She has since published two more comedic novels.
Other plays include: El Clavidista (Second Stage, Vermont, 1981, directed by David J. Miller); Amelia Earhart was Not a Spy (Solar Stage, 1985, directed by Charles Northcote); Sacred Hearts (Alberta Theatre Projects, 1989, directed by Michael D. Dobbin); Mothers of the Year (Lunchbox Theatre, 1997, directed by Bartley Bard); and Maple Lodge (chosen by Samuel French Inc. as best Canadian play of the 1999).
In 2019, Blyth Festival remounted Cakewalk, which features four contestants all eager to win the baking contest on Canada Day as a way of expressing personal needs: Martha, a middle-aged former hippy, is trying to adjust to the materialistic reality of marriage in a small town; Sister Vivien Leigh Cleary finds it a legitimate excuse to move away from the constraints of the nunnery and to dress in lay-women's clothes in order to ascertain whether she wants to change her vocation; Ruby Able, an ignorant bigot who reads the Enquirer and is against jogging, wants to prove that she can win at something in life; Augusta Connors Secord enters her daughter's wedding cake to demonstrate that she is capable of doing something solely for her own benefit, and not for the good of the family. Cakewalk is set in the basement room of an old inn, which displays typically Canadian icons: quilts, framed photos of Queen Elizabeth and John Diefenbaker, and a candy machine. The adjudicator is an archaeologist from the University of Toronto, who assumes that the cakewalk is an equal opportunity even. The play is published in Four New Comedies, Playwrights Canada Press, 1987.
An archival collection on this subject is available at the L.W. Conolly Theatre Archives at the University of Guelph, Ontario.
Profile by Gaetan Charlebois and Anne Nothof. Additional information provided by Ellen Goodman.
Last updated 2019-03-27