Girard, Benoit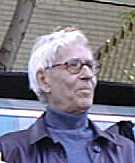 Benoit Girard
Quebec-based actor/translator, born 26 janvier 1932 in Montréal in le quartier Hochelaga-Maisonneuve, Benoît Girard was the tenth of eleven children. He died 27 March 2017 at the age of 85 of emphysema.
Benoit Girard began his career in 1956 in Shakespeare's La Nuit des rois/Twelfth Night. Since then, he has acted in nearly one hundred plays in most of the major theatres in Montreal, including the works of Dumas, Corneille, Faulkner, Racine, Priestly, and Marcel Dubé (Le Temps des Lilas). His roles varied from the classical to Neil Simon; from John Murrell's Sarah et le cri de la langouste/Memoir to René Gingras's Syncope.
He appeared in the Compagnie Jean-Duceppe production of Eduardo de Filippo's La Grande Magia (1998), the Jean-Duceppe revival production of La mort d'un commis voyageur (April, 1999), and in the Juste Pour Rire production of Les Jumeaux Vénitiens/The Venetian Twins (June, 2000).
In 2001, Benoît Girard won a Masques Award for his role in Chekhov's The Cherry Orchard at Théâtre du Nouveau Monde. His last performance was in Le déni by Arnold Wesker, at Théâtre Jean-Duceppe in 2009.
He acted in forty television series, and in the groundbreaking productions of modern theatrical classics like John Steinbeck's Des souris et des hommes/Of Mice and Men and Arthur Miller's La Mort d'un commis-voyageur/Death of a Salesman, opposite Jean Duceppe. He was particularly well-known for his role in Le retour.
Benoit Girard translated much of Neil Simon (Brighton Beach Memoirs/Souvenirs de Brighton Beach, Biloxi Blues, Bonjour Broadway/Broadway Bound), as well as Ken Kesey's One Flew Over the Cuckoo's Nest/Vol au-dessus d'un nid de coucou, Peter Shaffer's Black Comedy/Comédie dans le noir and many others. His translation of John Logan's Birds of Prey as Les Oiseaux de proie was performed at the Compagnie Jean-Duceppe in February, 2001.
He was married for fifty-five years to actress Monique Joly (died 2015).
Profile by Gaetan Charlebois and Anne Nothof
Last updated 2021-01-05