Green, Michael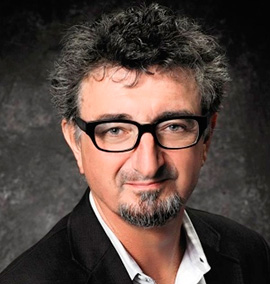 Nichael Green
Actor, director and co-founder/co-artistic director of One Yellow Rabbit, based in Calgary, Alberta. Michael Green was born in 1957 in Scarborough Ontario. He died in a car accident near Regina, Saskatchewan on February 10, 2015 at the age of 58.
Michael Green grew up in Longueuil, Quebec, and moved with his parents to Calgary in 1973. He began his theatre career with Ikarus, a Calgary avant-garde theatre company, writing, directing, producing and acting in more than fifteen productions between 1975 and 1983.
As a member of the One Yellow Rabbit performing ensemble, Michael created many memorable characters in shows such as Doing Leonard Cohen, In Klezskavania, Somalia Yellow, Ilsa, Queen of the Nazi Love Camp, and cabaret performances Yowl and The Whaler. His writing for the company includes Naked West, Dreams of a Drunken Quaker and Lives of the Saints (with Andy Curtis). Alien Bait (written with Blake Brooker) is based on six years of study and research into the UFO abduction phenomenon.
His book of plays, Dreams of a Drunken Quaker - Two Plays and a Rant, was published by AB Collector Publishing in 1992. Directing credits for One Yellow Rabbit included Eugene Ionesco's Exit the King (with Elise Ménard) and Lives of the Saints. He also led the Shiny Beast/Whip It Out Ensemble in their tribute to Frank Zappa's art and music, Zappaphelia, a sprawling, community-based project designed to explore a performance terrain called Jazz~Theatre which he co-founded in 1997 with Ken Cameron.
Michael Green was also Curator of the High Performance Rodeo, which he founded in 1987. The High Performance Rodeo is Calgary's annual international festival of the alternative arts, which hosts a wide range of works -- dance, comedy, interdisciplinary and performance art. Every January it extends audience experience and provokes controversy. Canadian theatre and performance artists who have participated include Sky Gilbert (1987) reading plays and poetry; anarchic clowns, Mump and Smoot (1993); comedian Andy Jones (2002); Teatro La Quindicina's Caribbean Muskrat (2003) by Stewart Lemoine and Josh Dean; Cul-de-Sac (2004) by Daniel MacIvor; and Faithless (2005) by Chris Craddock and Steve Pirot.
The High Performance Rodeo has also hosted a Ten-Minute-Play festival (2002); the Kronos String Quartet and the Festival Chorus of Calgary in Sunrings; and "Mutton Busting" -- a new generation of performance artists from the University of Calgary, who are extending the parameters of theatre even further.
In 2012, he was curator and creative producer for events when Calgary was named Canada's cultural capital. He collaborated with First Nations artists and elders to create Making Treaty 7, which presents the perspective of all those involved in the treaty.
Michael Green believed that "the history of Canadian culture is all about finding your own voice" (CTR 124 [Fall 2003]:10).
Further Reading: Susan Bennett and Penny Farfan. "'At War with Commercial Entertainment and Mediocrity': Interview with High Performance Rodeo Founder and Curator Michael Green." Canadian Theatre Review 124 (Fall 2003).
Source: One Yellow Rabbit website: www.oyr.org
Last updated 2015-02-24