Jain, Ravi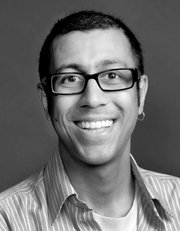 Ravi Jain
Playwright, director, actor, based in Toronto Ontario. Ravi Jain is the founder and Artistic Director of Why Not Theatre. He attended Upper Canada College, and studied at the London Academy of Music and Dramatic Art, New York University's Tisch School of the Arts and the Jacques Lecoq school in Paris.
Jain believes that the primary function of theatre is to connect people from different countries and cultures, and to this end he experiments with a wide range of performance practice: from text to video, from improv to sound recordings. He resists typecasting and compartmentalization, and has directed an acclaimed "stripped-down" production of Salt-Water Moon at Factory Theatre (Feb 2016), which eschewed a specific Newfoundland setting and casting. For this production he was awarded a Dora Mavor Moore Award for directing.
In 2016, he also directed an acclaimed production of Lisa Codringtons's adaptation of Bernard Shaw's story, The Adventures of the Black Girl in Her Search for God for the Shaw Festival. In 2018, for the Shaw Festival, he directed the premiere of The Orchard by Sarena Parmar, an adaptation of Chekhov's The Cherry Orchard, featuring a South Asian family struggling to retain its farm in the Okanagan. For the 2020 season at Shaw, he devised a two-part version of the massive and complicated Hindu epic poem, Mahabharata with Miriam Fernandes and Why Not Theatre. It was cancelled when the Covid-19 virus closed theatres in Canada; but finally premiered at the Shaw Festival in March 2023, with a large cast of performers from the South Asian diaspora, and live music. The production then relocated to the Barbican Theatre in London.
Jain has acted in classical plays such as Antigone, Hamlet and Othello, in New York, Athens and Paris, respectively, as well as in contemporary physical performances that engage in dance, visuals and multimedia, such as his company's co-production SPENT, an absurdist account of two executives who fall off the corporate ladder in a recession, which he co-wrote.
His play, I'm So Close It's Not Even Funny, about time and loneliness, was developed during his residency at The Theatre Centre, and premiered at SummerWorks in 2009.
The Why Not Theatre production of A Brimful of Asha, which he wrote with his mother (Asha), about her failed attempt to arrange a marriage for him in India, opened at the Tarragon Theatre Extra Space in 2012, with Jain playing himself and multiple roles, and Asha playing herself. It was remounted early in 2013, after critical and popular acclaim, including a production at the Magnetic North Theatre Festival in Ottawa. It has since toured in Canada and abroad. In October 2020, it was performed at the Citadel Theatre with Adolyn H. Dar as Ravi and Nimet Kanji as Asha (dir) Mieko Ouchi.
Ravi Jain was Tarragon's Urjo Kareda Artist-in-Residence during the 2009–10 season. In 2016, he was appointed to a three-year term as Associate Artistic Director of Soulpepper Theatre Company, but resigned before his term ended. As of 2018, he was the director of the Citadel/Banff Program at the Banff Centre for the Arts.
Profile by Anne Nothof, Athabasca University
Last updated 2023-03-13