Drainie, John (Robert Roy)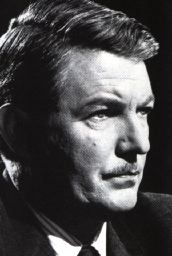 John Drainie (Robert Roy)
Actor born in Vancouver, British Columbia, 1916; died in Toronto, Ontario, 1966 of cancer.
John Drainie was one of the most well-known of the first community of professional actors in Canada. He began as a radio drama actor in the late 1930s, working often with Andrew Allan, and endearing himself to his audiences with his versatility. He is especially remembered for performing the lead in the long-running series based on W.O. Mitchell's Jake and The Kid. He also brought the works and person of Stephen Leacock to Canadians by playing a one-man-show about the author on radio, television, and stage. In 1954 he convincingly played the role modelled on Joseph McCarthy in the satirical radio play The Investigator by Reuben Ship.
He also acted on TV, including the role of Matthew Cuthbert in the 1956 original CBC production of Anne of Green Gables.
He has been honoured by the Alliance of Canadian Theatre, Television and Radio Artists (ACTRA) each year with the conferring of the John Drainie Award for distinguished contributions to broadcasting.
Profile by Gaetan Charlebois and Anne Nothof
Last updated 2020-08-10