Lafontaine, Rita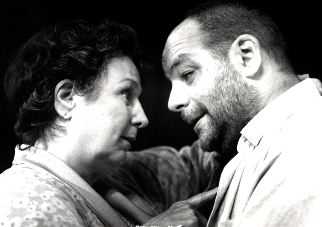 Versatile and popular Quebec actor, born June 8, 1932 in Trois-Rivières; died April 5, 2016 in Montreal. Rita Lafontaine was a favourite of playwright Michel Tremblay and director André Brassard, who cast her in sixteen plays by Tremblay, twelve of which were written for her. She made her professional debut in 1968 with the premiere of Les Belles-soeurs.
>Her acting range was critically acclaimed. The transitions Lafontaine could make between roles and even in the same performance were extraordinary. In the Théâtre d'Aujourd'hui revival of three Tremblay one-acters, under the title of the Trilogie des Brassard, Lafontaine gave a stunning fire and water rendition of the mother in A toi, pour toujours, ta Marie-Lou. (In the work's world premiere, she had played one of the daughters.) Her performance as the widow in the Tremblay work, Messe solennelle pour une pleine lune d'été, was an awesome portrayal of control in grief. But her tour de force in the premiere of Tremblay's Encore une fois, si vous le permettez (Théâtre du Rideau Vert, 1998) will be remembered forever by all who saw it. Her long-time friend, Jeannette Bertrand has lauded her complete authenticity and her influence on Quebec society. She was loved because Québécoises recognized themselves in her.
Aside from the many Tremblay works she performed, Lafontaine also starred in Chekhov's Oncle Vanya/Uncle Vanya, Anouilh's Antigone, Miller's Les Sorcières de Salem/The Crucible, and Beckett's Oh! les beaux jours/Happy days, among many others.
She also appeared in the Compagnie Jean-Duceppe production of La chatte sur un toit brûlant/Cat on a Hot Tin Roof (April, 2000) and in the premiere of Tremblay's L'État des lieux (April, 2002).
Rita Lafontaine also frequently performed in film and on television, and won several awards for her work in both.
She ran her own summer theatre, Théâtre de la Chèvrier in Saint-Fortunat, Quebec. In 2005, she received the Order of Canada.
She had one daughter, Elsa Lessonini, who died of cancer in 2013.
Her biography, Comment dire by Claude Lapointe, was published in 1998 by Editions 7 Jours.
Profile by Gaetan Charlebois.
Last updated 2021-02-25