Lang, Duval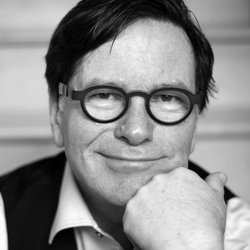 Duval Lang
Actor, director, based in Calgary Alberta. For the past forty years he has been involved in the dynamic growth of the Calgary theatre scene. In the mid 1970s, he acted and directed for Theatre Calgary's Stage Coach Players, and has been acting in major roles for the Company since then: In 1983, he appeared in Sharon Pollock's Whiskey Six; in 2019, he was notable in Michael Frayn's farce, Noises Off!.
He was co-founder and artistic director of Quest Theatre, a theatre for young audiences for twenty-five years until 2008. He is currently Chair of Lunchbox Theatre's Board of Directors.
He has acted in theatres across the country, including the role of Don Juan in The Exotic Anguish of Don Juan (Old Trout Puppet Workshop at Alberta Theatre Projects, 2009); Hitler and Disney in The Blue Light by Mieko Ouchi (DMV Collective, Halifax, 2010); Capulet in Romeo and Juliet (Theatre Calgary); Sigmund Freud in Why Freud Fainted (Alberta Theatre Projects); Gustave in Heroes (Sage Theatre); Dressler in The Dishwashers by Morris Panych (Downstage Theatre); the Reverend in An Eye for an Eye (Ghost River Theatre); and Francis Nurse in The Crucible (Theatre Calgary, 2015). In The New Canadian Curling Club by Mark Crawford (ATP 2019) he played "a cantankerous old rink rat."
In 2019, he co-founded Black Radish Theatre with Christopher Hunt, Andy Curtis, and Tyrell Crews to produce Waiting for Godot at The Grand in Calgary, playing the role of Pozzo.
Duval Lang has been nominated for several Betty Mitchell and Elizabeth Sterling Haynes Awards (Sterling Awards), and won a Betty for his role in You Will Remember Me by Francois Archambault (ATP 2014). He is a recipient of the Harry and Martha Cohen Award for significant and long-term contribution to theatre in Calgary.
Profile by Anne Nothof, Athabasca University
Last updated 2019-10-07