Ledoux, Paul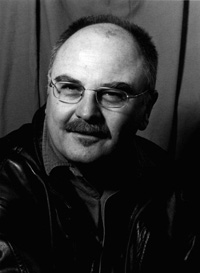 Paul Ledoux. Photo by David Hylinski
Prolific and popular playwright born and raised in Halifax, Nova Scotia.
He has a B.A. in history from Dalhousie University (1972), and studied at the Nova Scotia College of Art and Design (1972-76). He began writing for theatre while living in Montreal and working at the Centaur Theatre.
Paul Ledoux has created 38 plays, produced many times across Canada and abroad, several of which are multiple award winners. The Electrical Man (1976) won the award for best play in the Quebec Drama Festival. He won the Chalmers Award, Dora Mavor Moore Award, and Betty Mitchell Award for the musical, Fire (written with David S. Young, premiered at Magnus Theatre, 1986, directed by Brian Richmond); and was nominated for a Chalmers for Secret Garden (adapted from Frances Hodgson Burnett, Young People's Theatre, 1991, directed by Maja Ardal).
Other plays include: Judy!, a musical biography of Judy Garland (Stages Cabaret, 1980, directed by Ledoux); The Children of the Night (Factory Theatre, 1982, directed by Bob White); As Time Goes By (music by David Smyth and Peter Willson, Magnus, 1986, Brian Richmond); Sam Slick, The Clockmaker (music by A. MacDonald, Mermaid Theatre, 1983, Graham Whitehead); Love is Strange, inspired by the story of a Canadian farmer who was obsessed with Anne Murray (with David S. Young, Magnus, 1984, Richmond); Cheatin' Hearts (with David Smyth, Magnus, 1994, Mario Crudo); Ubu the Barbarian (songs by Joe Hall, Arbour Festival, Richmond); Anne (Young People's Theatre, 1998, Patricia Vanstone); Merlin (Young People's Theatre 2002).
More recently, his drama about the family of John Wilkes Booth, Tyrants, was produced and directed by Brian Richmond at the University of Victoria; and Still Desire You (a revision of Love is Strange) was co-produced by Western Canada Theatre Company and Alberta Theatre Projects in 2007. His most recent work, Paris Before the Crash focuses on artists from the "Lost Generation" in Paris in the 1920s, with a score by John Roby.
Paul Ledoux has also worked as dramaturge, director, and designer, and writes for film, radio, and television as well as theatre.
Last updated 2021-12-27