Legault, Père (Father) Émile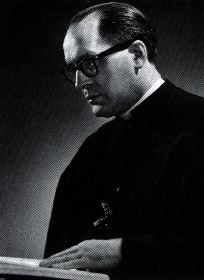 Arguably the father of Quebec (if not Canadian) modern theatre, he was born in Ville St-Laurent, Quebec, in 1906 and died in Montreal in 1983.
He studied in Montreal and Quebec before his ordination in 1930. He was a teacher at the Collège de Saint-Laurent where he founded, in 1937, Compagnons de Saint-Laurent, which he led for the next 15 years from amateur to professional status. A trip to London and Paris in 1938-39 broadened his vision of theatre. He was an enlightened priest and the company soon broke away from the turgid religious plays that were its early fare to present the works of Molière, Beaumarchais and even Cocteau and Tennessee Williams. After his retirement from the company, he went on to write dramatic works on religious themes.
It is impossible to overstate the company's and Père Legault's influence over the history of the Canadian stage. Les Compagnons included many of the artists (Denise Pelletier,Jean-Louis Roux, Jean Gascon) who went on to create, first, the new theatres of Quebec (Théâtre du Nouveau Monde) and the institutions (National Theatre School of Canada) which enabled the works of the new playwrights (Réjean Ducharme).
Last updated 2009-04-23