Leiren-Young, Mark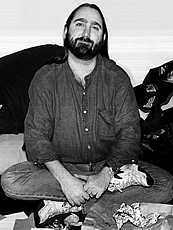 British Columbia based playwright/journalist born in Vancouver in 1962. He studied at the University of Victoria (BFA, 1985) before serving as theatre critic for The Georgia Straight and writing about theatre for the CBC, Canadian Theatre Review , and Theatrum. He won the National Magazine Award for his work in Theatrum
A prolific writer, he has had his plays produced frequently at Fringe Theatre Festivals across the country, many of them premiering there (The Oprah Donahue Show, 1988, Edmonton and Vancouver; Jim, 1990, Vancouver; City Boy in a Cowboy Town, 1991, Winnipeg). His musical about stock promoter Murray Pezim, Easy Money, played during the 1999 Arts Club Theatre season (music by Bruce Kellett). His play, Blueprints from Space played Citadel Theatre (1992, directed by Marianne Copithorne). His work about issues of censorship and art surrounding an actor performing in The Merchant of Venice, called Shylock, premiered at Bard on the Beach in 1996 and subsequently played at Philadelphia's Walnut Street Theatre (published by Anvil Press, 1997.)
His other plays include: Faaantastic Fables From Fantasy Gardens (1988); The Real Brian Mulroney (1988); Impolite Company (1989); If You Really Love Me (1994). More recent plays include: Articles of Faith (2001); Greener Than Thou - the Eco-Confessional (2011); Never Shoot a Stampede Queen (Western Canada Theatre Company 2013); and Bar Mitzvah Boy (Pacific Theatre, Vancouver 2018), which was longlisted for the Stephen Leacock Memorial Medal for Humour in 2021.
He is a well-known television and radio writer as well, having created CBC Radio's controversial Dim Sum Diaries and writing for the televised Genie, Juno and Gemini awards.
His works are frequently satirical, and focused on environmental issues, with sharp commentary on the Canadian political scene.
He is a winner of the Leacock Medal for Humour for his memoir, Never Shoot a Stampede Queen, which he adapted as a solo stage show with director TJ Dawe. His latest comic memoir, Free Magic Secrets Revealed is about falling in love with theatre.
Website: www.leiren-young.com
Profile by Gaetan Charlebois. Information provided by Joan Watterson and Joel Greenberg.
Last updated 2021-05-05