Lepage, Roland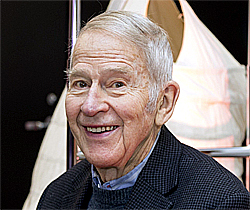 Roland Lepage
Quebec-based playwright, actor and director, born in Quebec City, October 31, 1928.
After graduating from Laval University in Quebec City, Roland Lepage began a theatre there with Pierre Boucher and Paul Hébert. He then went to Bordeaux, France to study and to work in theatre, subsequently pursuing a career as actor on stage, radio and television.
Aside from his stage plays, he has also written for television and has translated and adapted classics and modern works. He has also taught at the National Theatre School of Canada and served as Artistic Director at the Théâtre du Trident.
He won the Chalmers Award for Le temps d'une vie (commissioned by the National Theatre School, 1974, translated by Sheila Fishman as In a Lifetime, Tarragon Theatre, 1978), the first time the award was given to a francophone author.
Other plays include: La Folle du Quartier-latin, an adaptation of Jean Giraudoux's La Folle de Chaillot (Grand Théâtre de Québec, 1976), and La Complainte des hivers rouges (Théâtre du Trident, 1978). Translations include: Anton Chekhov's The Cherry Orchard as La Cerisaie (Théâtre du Rideau Vert, 1987), David Rudkin's Ashes as Cendres (Théâtre du Trident, 1988).
In 2008, to celebrate his eightieth birthday, Théâtre de la Bordée presented three evenings dedicated to readings of his work.
Profile by Gaetan Charlebois.
Last updated 2021-02-01