Hébert, Marjolaine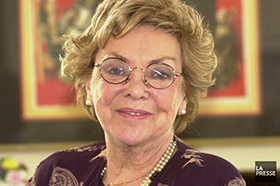 Marjolaine Hebert
Quebec-based actor/director born in Ottawa, Ontario 13 April 1926, died in Longueuil, Quebec 28 July 2014. She was married to actor Robert Gadouas, and the mother of Daniel Gadouas.
Marjolaine Hébert began her acting career on radio in 1941. She made her professional theatrical début with Équipe, with which she performed in Songe d'une nuit d'été/A Midsummer Night's Dream and >Lilliom, among others. She also performed with Théâtre du Rideau Vert (Huis-Clos/No Exit, Les Jouets among others); Théâtre du Nouveau Monde (Mère Courage/Mother Courage among others); and was in the premiere casts of many of the plays of Marcel Dubé (including Les Beaux Dimanches, Au Retour des oies blanches).
She was the founder and Artistic Director of Théâtre de Marjolaine from 1960 to 1993.
She also performed frequently on television and in film.
In 1991, she was made a Knight of the National Order of Québec, and in 1994, an Officer of the Order of Canada.
Profile by Gaetan Charlebois
Last updated 2021-01-24