Moses, Daniel David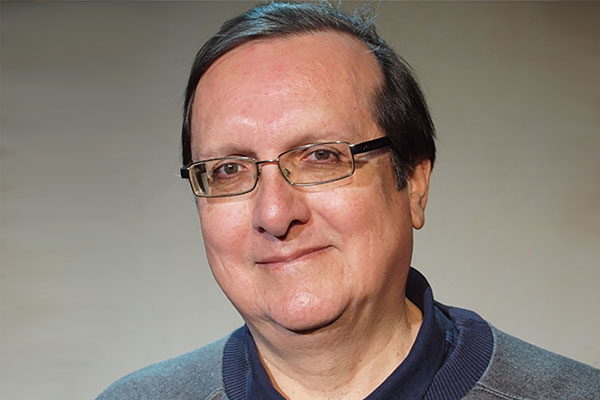 Daniel David Moses
Playwright, poet, and editor Daniel David Moses was born in 1952 in Ohswaken, Ontario, a Delaware from the Six Nations lands on the Grand River in Brandon . He died of cancer on July 13, 2020 at the age of 68. He graduated from York University in 1975 with a B.A., and from the University of British Columbia in 1977 with an M.F.A. in Creative Writing.
From 1986-87 he was Playwright in Residence at Native Earth Performing Arts, and he has been Playwright or Writer in Residence at the Banff Centre for the Arts (1993), the University of Western Ontario (1994), Theatre Passe Muraille (1994-95), the University of Windsor (1994-96), Playwrights' Workshop, Montreal (1996), McMaster University (1999), Concordia University (2001-02), and the University of Toronto (2003-04), as well as Writer in Electronic Residence for the Writer's Development Trust for several years. From 2003 to 2006 he was a Queen's University National Scholar, teaching playwriting in the Drama Department.
Moses explores the catastrophic consequences of the collision of First Nations and white cultures and societies in his plays. Writing about The Indian Medicine Shows (Theatre Passe Muraille 1998, published by Exile Editions 1995) in the Globe & Mail, Kate Taylor calls Moses "a coroner of the theatre who slices open the human heart to reveal the fear, hatred and love that have eaten away at it. His dark play...can leave its audience shaking with emotion." Set in late 19th century New Mexico, the two one-act plays of The Indian Medicine Shows, entitled "The Moon and Dead Indians" and "Angel of the Medicine Show" suggest that the only real Indian is a vanished one, but Indians as ghosts haunt the violent society that has destroyed their culture, and which is in the process of destroying itself. In "Angel of the Medicine Show" the Indigenous man who provides the main pitch for the "medicine" as an Indigenous remedy finally escapes his white tormentors. He embodies all the abuses suffered at the hands of the Church, and the white "pioneers" and capitalists who have exploited him.
The four "city plays" track the tragic experiences of an Indigenous family, shifting between the supernatural spiritual world of First Nations tradition, and the present urban condition in which they attempt to survive. Coyote City (Native Canadian Centre of Toronto 1988) begins with a phone call from a ghost – a Trickster who assumes many different guises, and who sends the girlfriend, Lena, and her family on a search in the city for missing lover he embodies. Big Buck City (Cahoots Theatre Projects 1991) tells the story of Lena, her missing lover, Johnny, and the birth of their baby as a farcical Nativity. Kyotopolis (workshop production, Graduate Centre for Study of Drama, University of Toronto 1993) takes the form of sci-fi satire, showing the death and resurrection of "Babe" in the explosion of a space shuttle. In City of Shadows (1995), all of the characters from the earlier plays revisit the previous events as ghosts.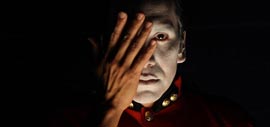 David Garza as Almighty Voice
Almighty Voice and His Wife (Great Canadian Theatre Company 1991, dir. Lib Spry) tells the story of a First Nations hero/victim from two very different perspectives. Almighty Voice was a 19th century Saskatchewan Cree, whose poaching of a settler's cow resulted in his incarceration and escape from jail, and his shooting of a Mountie. He was finally tracked down by a large group of police and civilians, and shot. The first act provides a naturalistic portrait of Almighty Voice and his wife, White Girl. The second act shows how the story has been appropriated by a white society in an attempt to locate an "almighty Native voice." Almighty Voice is now a Ghost and his wife White Girl is the Interlocutor or Master of Ceremonies, dressed as a Mountie. Both wear whiteface, and engage in a parodic vaudeville routine which mocks the expectations and assumptions of a White audience. Billy Merasty played Almighty Voice, and Jani Lauzon played White Girl. The play was revived by Native Earth Performing Arts in 2009 (dir. Michael Greyeyes), and received a positive critical reception in London, England. In 2010 it toured across Canada. In 2019, it was mounted by Soulpepper Theatre Company (dir. Jani Lauzon).
The Dreaming Beauty (1988) and The Witch of Niagara (1998) are dream plays which tell the stories of young women inhabiting an infected world since the colonization of First Nations peoples. Ghostly voices narrate First Nations' versions of fairy tales and myths from the past.
Brebeuf's Ghost (Young People's Theatre Studio in the Centre for Indigenous Theatre, Toronto 1999) revisits the martyrdom of the Jesuit priest from the First Nations' point of view: His ghost pursues a group of Ojibwa like a cannibal preying on the community, kept at bay only by the stronger medicine of the shaman. Moses call his epic play "a tale of horror in three acts," and acknowledges the influence of Shakespeare's Macbeth.
Songs of Love and Medicine, two one-act plays with music, were produced at the Rotunda Theatre, Queen's University Department of Drama in 2005.
Moses' first collection of poetry, Delicate Bodies, was published in 1980. The White Line: Poems was published by Fifth House in 1990.
With Terry Goldie, he has edited An Anthology of Canadian Native Literature in English (Oxford 2005).
His awards include a Chalmers Arts Fellowship in 2003, the Harbourfront International Authors Festival Prize in 2001, the James Buller Memorial Award for Excellence in Aboriginal Theatre (1996, and the Canadian National Playwriting Competition in 1990. He was elected as a Fellow to the Royal Society of Canada in 2016.
Website: www.danieldavidmoses.com
Further Reading: Daniel David Moses, Spoken and Written Explorations of His Work, eds. Tracey Lindberg and David Brundage. Toronto: Guernica Editions, 2015. Review in UT Quarterly Volume 86, Number 3, Summer 2017. pp 306-308.
"Conversation with Daniel David Moses, August 2015", in Performing Turtle Island: Indigenous Theatre on the World Stage, eds. Jesse Rae Archibald-Barber, Kathleen Irwin, and Moira Day. University of Regina Press, 2019, pp 73-96.
Profile by Anne Nothof, Athabasca University.
Last updated 2020-08-06