Red Emma
Red Emma: Queen of the Anarchists is a play in two acts by Carol Bolt, first produced at Toronto Free Theatre on February 5, 1974, directed by Martin Kinch, with Chapelle Jaffe as Emma Goldman, Diane D'Aquila as Helen Minkin, Nick Mancuso as Alexander Berkman, Jim Henshaw as Fedya, William Webster as Henry Clay Frick, Miles Potter as Kreiderman, A.J. Henderson as Parks, David Bolt as Johann Most, and Phil Schreibman as the Piano Player; design was by Miro Kinch, and music composed by Phillip Schreibman. It was filmed by CBC TV in 1974, directed by Allan King and Martin Kinch.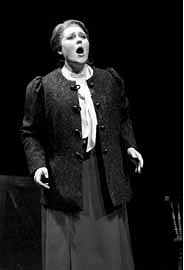 Anita Krause in the 1995 Canadian Opera Company production of Red Emma with music by Gary Kulesha and libretto by Carol Bolt
Inspired by Emma's autobiography, Living My Life, the play is a celebration of the anarchist cum feminist (Red) Emma Goldman, and a portrait of the circumstances that led to her attempted assassination of American industrialist Henry Clay Frick in 1892. Though the event was a footnote in the broad spectrum of American history, Bolt sees it as defining a life, an era and the women's movement. As Urjo Kareda wrote, "Emma beautifully suggests the almost dangerous urgency of feelings within the heart of anarchy" and "the kind of passionate, fierce, honest, and determined woman who is drawn to anarchy as a source of emotional expression" (quoted in Zimmerman, Reading Carol Bolt, Toronto: Playwrights Canada Press, ix).
Red Emma was made into an opera in 1995, with libretto by Bolt, and music by Gary Kulesha; directed by David William, set and costumes by Teresa Przybylski (Canadian Opera Company, duMaurier Theatre Centre, 28 November to 3 December).
Red Emma is published in Reading Carol Bolt, ed. Cynthia Zimmerman. Toronto: Playwrights Canada Press, 2010.
Commentary by Gaetan Charlebois. Updated by Anne Nothof.
Last updated 2021-08-27