D'Aquila, Diane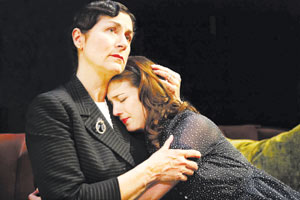 Diane D'Aquila (left) and Martha MacIsaac
in Leaving Home, Soulpepper Theatre
Versatile and accomplished actor, born in Cedar Rapids Iowa in 1953, and raised in Minneapolis, Minnesota. Advised by Tyrone Guthrie, she relocated to Canada, where she attended the National Theatre School of Canada. She has acted in many alternative and experimental theatre productions in the 1970s and 1980s at Toronto Free Theatre, Theatre Passe Muraille and the Tarragon Theatre. She has been particularly interested in the plays of George F. Walker, and has acted in several premieres: Zastrozzi, The Art of War and Nothing Sacred.
From 1973 to 2008, she performed regularly at the Stratford Festival, most notably in the role of Elizabeth I in Timothy Findley's Elizabeth Rex in 2002. She won an ACTRA Award and a Gemini Award in 2005 for her performance in the play's television adaptation. In 2008, she played Ftatateeta in Bernard Shaw's Caesar and Cleopatra.
In 2008 she played with bravura the role of the diva actress in David French's Jitters at the Manitoba Theatre Centre with her former husband, C. David Johnson. In 2007 she played the role of Mary in the Soulpepper Theatre Company's acclaimed revival of David French's Leaving Home; and in 2009 she again played Mary in French's Of the Fields, Lately, maintaining her contact with seminal Canadian theatre.
For the 2009-10 season, she joined the English Language Company at the National Arts Centre for a production of Bertolt's Brecht's Mother Courage, starring Tanja Jacobs, and directed by Peter Hinton. The following year she played in Michel Tremblay's Saint Carmen of the Main also directed by Hinton.
In 2011, she returned to her acting roots in Toronto, performing the role of Solange in Jean Genet's The Maids at Buddies in Bad Times. As she explained to critic J. Kelly Nestruck, "I started in theatre that is challenging and in new work and that's where I'd like to end."
In 2017, she undertook the role of King Lear in Shakespeare's monumental tragedy of hubris at "Shakespeare in High Park," returning to the Company in which she had performed in A Midsummer Night's Dream for its inaugural season in 1983.
She has also appeared extensively in film and television, including the series on the peccadilloes of Stratford performers, Slings and Arrows.
Profile by Anne Nothof. Additional information from J. Kelly Nestruck, The Globe and Mail, 19 Sept 2001, R7.
Last updated 2021-02-10