Peace, Roger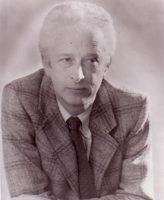 Roger Peace
Quebec-based actor, writer, director and producer, who has over 107 productions to his credit.
Roger Peace has been an entertainer since the age of six, performing in Britain and London's West End. When he came to North America, he appeared on TV, in night-clubs, in film and on stage.
As the artistic director of Montreal's Snapshot Productions he directed Nunsense I and Nunsense II, A Tribute to Broadway, Lady Day at Emerson's Bar and Grill and The Sisters Rosensweig (a huge success in co-production with the Saidye Bronfman Centre).
Other productions include: Red Hot Mama: Songs and Stories of Sophie Tucker (La Diligence Dinner Theatre, Montreal, 1992); Come On Smile (Martime tour, 1990); and Hats (Montreal 1980).
Firmly committed to commercial theatre, he and his partner, Allan Sandler, embarked on a most ambitious route: to mount a made-in-Canada musical. In 1995, they tried out a work, Jeanne, at the Saidye Bronfman (to great success). Roger Peace participated in the mega-musical revival of the work later at the Place des Arts.
His own works include Piaf: Love Conquers All (Place des Arts, 1992), which has also been produced in the US and the Philippines. In the summer of 2009, it toured British Columbia, and returned to Quebec to play in the Eastern Townships' Theatre Lac Brome. It then played in Istanbul, Turkey and Europe. In 2013, Piaf: Love Conquers All opens on tour in England, produced by Move On Up Productions at venues in Buckinghamshire and Middlesex.
In 2010 Roger Peace, Allan Sandler, and Barry Garber founded a new Montreal-based company named Copa di Ora which concentrates on developing new musicals for worldwide audiences. In July 2011, it presented a new musical in conjunction with Just For Laughs: Le Petit Roi features songs of Jean-Pierre Ferland. In the fall of 2011 the Company presented Judy: By Myself a one woman musical about the legend Judy Garland. Judy: Songs and Stories of Judy Garland written and directed by Roger Peace opened in May 2014 at the Segal Centre for Performing Arts, starring Denise Rose as Judy Garland, and was a sold out success; it will be reprising in May 2015 also at the Segal Centre.
Movin' On Up: The Mahalia Jackson Musical was presented as part of the Segal Centre's season in March 2013, starring Ranee Lee as Mahalia Jackson accompanied by a gospel choir. A production of Ain't Misbehavin' opened at the Segal Centre in September 2013, and was a major success with an extension.
Upcoming is a production of White Gardenia: The New Billie Holiday Musical starring Ranee Lee as Billie Holiday in celebration of Ms Holiday's 100 anniversary. Roger Peace will be directing a production of Forever Plaid in February 2015 at the Segal Centre.
The Magic of Marlene, based on the life of Marlene Dietrich, and a show on Shirley Bassey are in development.
Website: www.copadeoro.ca
Last updated 2021-07-21