Tableau D'Hôte Theatre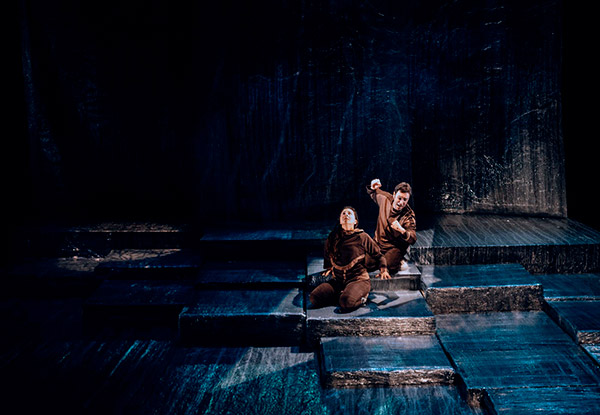 Sedna by Jessica Abdallah, with Tiffany Ayalik and Charles Bender. Photo by Jaclyn Turner.
Theatre company in Montreal Quebec, founded by Mike Payette and Mathieu Perron in March 2005.
Tableau D'Hôte Theatre was formed with the mandate to exclusively produce work by emerging and established Canadian playwrights, whose pieces have rarely or never appeared on a Montreal stage, to facilitate intercultural dialogue and cultural reconciliation. It endorses the development of both professional and emerging artists including performers, writers, designers, and directors by showcasing their talent on Montreal stages. In the first five years of its existence, the company employed over one hundred artists and crew members.
Tableau D'Hôte Theatre has encouraged the exploration of multiple performing arts within the theatre medium. For example, Ken Norris's One Night, (2007) employed a mixture of contemporary dance, poetry, and electro-acoustics.
The company has produced over twenty-five plays including five English Montreal premieres: Tough! by George F. Walker; I Am Yours by Judith Thompson (2006); Amigo's Blue Guitar by Joan Macleod; Jehanne of the Witches by Sally Clark; 7 Stories by Morris Panych (2008); Lion in the Streets by Judith Thompson (2008); A Line in the Sand (2010) by Guillermo Verdecchia and Marcus Youssef; Humans (2011) by Daniel MacIvor; Elizabeth Rex by Timothy Findley (2012); and Angelique by Lorena Gale (with Black Theatre Workshop, 2017). It has also produced five world premieres: PrAgression by Mathieu Perron (2005); One Night by Ken Norris (2007); The Elusive by Mike Czuba; Haunted House by Endre Farkas (2009); Sedna by Jessica Abdallah (2013); and Thy Women's Weeds by Erin Shields (2020).
The Company has received several Montreal English Critics Circle awards for its productions.
Productions usually take place at Segal Centre for Performing Arts Studio Theatre.
Website: www.tableaudhote.ca
Last updated 2019-10-23