Taylor, Drew Hayden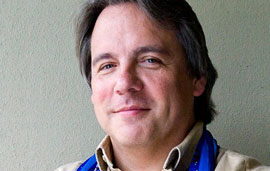 Drew Hayden Taylor
Ojibway playwright, novelist, and essayist born at the Curve Lake First Nation, Ontario in 1962, where he now lives. Drew Hayden Taylorís writings are a significant part of the Indigenous cultural renaissance which has been gathering momentum since the 1980s. Humour figures in all Taylorís work, eliciting laughter edged with disturbing awareness of stereotypes being exploded and bitter truths being given a very thin sugar coating.
He first worked in radio and television, but since 1989 has been a primarily a playwright. He began writing plays under the mentorship of director Larry Lewis and in close association with the First Nations Theatre company, the De-Ba-Jeh-Mu-Jig Theatre Manitoulin Island, Ontario.
His first play, Toronto at Dreamerís Rock (premiered at Sheshegwaning Reserve, Ontario, 1989, directed by Larry Lewis), a play for young audiences, is about three Ojibway youths, one from the past, one from the present, and one from the future, who meet at a site of vision quests. There they struggle with pressing issues of identity. Taylor has written a number of other plays for young audiences, including Girl Who Loved Her Horses (1995) and The Boy in the Treehouse(2000).
His second play, The Bootlegger Blues (Wikwimikon Unceded Reserve, 1990, directed by Lewis), was the first of a projected quartet of comedies celebrating Indigenous humour. It was followed up by The Baby Blues (1995) and The BuzíGem Blues (2001).
Another series of plays began with Someday (De-Ba-Jeh-Mu-Jig Theatre Group, Manitoulin Island, Ontario, 1991, directed by Lewis), a bittersweet play about the reunion of an Indigenous mother and the young woman who as a baby was forcibly taken away from her by the authorities to be adopted by a white family ó a fictional story about a real abuse common in the 1960s and 70s. It has played across the country including at Centaur Theatre.
Two sequels follow the story of the young womanís struggle to incorporate her Indigenous heritage into her sense of who she is. Only Drunks and Children Tell the Truth (Native Canadian Centre 1996) takes place after the death of her mother. She returns unwillingly to the reserve, where she is finally able to mourn the mother she never knew. In January 2000, Crazy Horse Theatre in Calgary launched with Only Drunks. 400 Kilometres (Wolfville, Nova Scotia 1999) follows the twists and turns of her developing relationship with a young man from the reserve and the strains that it places on her relationship with her adoptive parents.
Other plays include Pictures on the Wall (De-Ba-Jeh-Mu-Jig, 1990, Lewis), Education is Our Right (De-Ba-Jeh-Mu-Jig, 1990, Lewis), A Contemporary Gothic Indian Vampire Story (Persephone Theatre, 1992, Tibor Feheregyhazi), The All Complete Aboriginal Show Extravaganza (Youtheatre, 1994, Michel Lefebvre): alterNatives (Bluewater Summer Playhouse 1999, directed by David Ferry); and In a World Created by a Drunken God, a two-hander about the fraught reunion of two alienated half brothers (Persephone Theatre 2004).
For Ruby Slippers Theatre he adapted The Rise and Fall of the City of Mahagonny, as Sucker Falls: A Musical About Demons of the Forest and the Soul (2001), a broadly comic satire portraying the creation and collapse of a First Nations casino. Performed in Stanley Park, it featured songs, stiltwalking, a giant shadow play, and fireworks. Actors included Monqique Mojica, Kevin Loring, and Ian Ross.
The Berlin Blues premiered at Autry National Center/Wells Fargo Theater in Los Angeles in 2007; its Canadian production at 4th Line Theatre enjoyed considerable success. When a group of German entrepreneurs offers to develop Otter Lake Reserve into a Ojibway theme park, the locals respond in diversely humorous ways. In Dead White Writer on the Floor (Magnus Theatre 2010), six Natives attempt to recreate themselves, only to discover that they are still being "written" by a dead white writer.
God and the Indian opened at the Firehall Arts Centre in Vancouver in 2013 (dir. Renae Morriseau). A Cree woman who calls herself the self-effacing name of Johnny Indian (played by Tantoo Cardinal) confronts an Anglican assistant bishop (Michael Kopsa) after breaking into his office, accusing him of sexually abusing her when she was in residential school 30 years previously. She is now living on the street, as a consequence of the trauma she experienced in her youth. However, the bishop's guilt remains in doubt: he is an enlightened cleric, who deplores the sins of his church, and offers Johnny several possible ways out of her current lifestyle. God and the Indian is darker than many of Taylor's works, written in response to a challenge by Yvette Nolan, former AD of Native Earth (J. Kelly Nestruck, The Globe and Mail 12 May 2015). Native Earth Performing Arts produced the play at Aki Studios, Toronto in May 2014 with a new cast (Linda C. Ravensbergen and Thomas Hauff).
In 2016, the National Arts Centre commissioned Taylor to write a play about Sir John A. MacDonald to celebrate the 150th anniversary of Canada, a problematic task, since Sir John was responsible for the establishment of the residential school system. Sir John A.: Acts of a Gentrified Ojibway Rebellion premiered in 2017 at the NAC (dir. Jim Millan, music by Moe Berg) with Martin Julien as Bobby Rabbit, a young indigenous man living on a reserve who tries to get his grandmother's medicine bundle back from an English museum by disinterring Sir John's bones from his grave in Kingston, and bartering them for the medicine bundle. There, he confronts the ghost of Sir John, with the statement, "We survived you."
Cottagers and Indians (dir. Patti Shaughnessy) premiered at Tarragon Theatre in February 2018. This humorous two-hander "takes a sincere and pragmatic look at the current conflicts between First Nations traditional water usage and property owners in cottage country who are looking to enjoy an undisturbed summer getaway" (Tarragon website). In monologues addressed to the audience from each side of the stage, a woman from Toronto in a Muskoka chair and an Anishinaabe man in a canoe each presents a case, but never really communicate with each other, even though they have some important things in common.
Taylor has also had a long association with Canadaís premier urban Indigenous theatre company, Native Earth Performing Arts Inc. (Toronto), serving as playwright-in-residence from 1988 to 1989, and as its artistic director from 1994 to 1997. He has also taught at the Centre for Indigenous Theatre.
Taylorís plays have been produced widely in Canada and the United States, Germany and Italy, and have received a number of awards, most notably the Chalmers Award for Toronto at Dreamer's Rock and the Dora Mavor Moore Award for Only Drunks and Children Tell the Truth. He also won the Canadian Authors Association Award for Bootlegger Blues in 1990.
Many of his plays are in print. In addition, he has published Fearless Warriors (1998), a collection of short stories, and four collections of humorous writings under the running title Funny, You Donít Look Like One (1996-2004).
Taylor reflects on Native humour in a video he directed for the National Film Board of Canada titled Redskins, Tricksters and Puppy Stew (2000), and in Me Funny (2006), a collection of writings on Native humour, which he edited. His collection of essays, News: Postcards from Four Directions was published by Talon in 2010.
In 2010 Knopf Canada published his contemporary trickster novel, Motorcyles & Sweetgrass, in which the hero bears an uncanny resemblance to a white man named Jesus, and unsettles the religious and racial assumptions of a Native community. A collection of Native-themed science fiction short stories, titled Take Us To Your Chief And Other Stories was published by Douglas & McIntyre. In 2019, a new novel titled Chasing Painted Horses (Cormorant Press) brings his publication total to 33 books.
For CBC Docs POV, he produced and hosted a documentary titled "Searching for Winnetou" (2018), about the German preoccupation with North American Indigenous culture, and he is currently writing a 13-part half-hour series for APTN on Indigenous professional communities, such as architecture, cuisine, and fashion.
Website: www.drewhaydentaylor
Profile by Robert Nunn, Brock University. Additional information by Anne Nothof.
Last updated 2021-10-15