Theatre & Company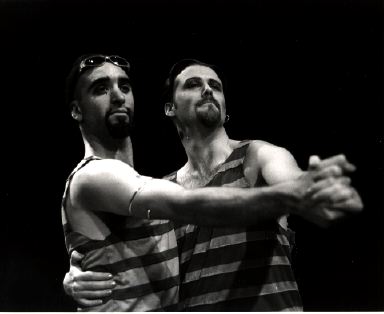 Mike Peng and Andrew Lakin in Theatre & Company's 1998 production of Waiting for Godot by Samuel Beckett. Photo: Kate Holt
Theatre company in Kitchener, Ontario, founded in 1988 by Stuart Scadron-Wattles, the Artistic Director until 2006. Daryl Cloran became AD in January 2007. It ceased operation in 2008.
The mandate was one of performing, teaching and training.
The Company performed in the 170-seat flex venue, the Water Street Theatre, created out of a retail space in a shopping centre. In spring, 2000, it began a capital campaign to build a permanent home, the King Street Theatre Centre. On September 13, 2001, the Company opened the house with a commissioned work, Gary Kirkham's Queen Milli of Galt
The Company presented a September-May season since 1990. In 1997, it established the Young Ensemble Theatre, which selected nominated high school students and used the company resources to help the students form their own writing and performing ensemble. The Company also gave studio classes open to the public and in partnership with schools.
In 1998 the Company created Writers Bloc, a playwriting workshop lead by a house dramaturge.
Theatre & Company was funded through subscription and ticket sales, grants from various levels of government and gifts from individuals and corporations.
Its first production in 1988 was the collective creation This Side Up. Since then, it presented a wide variety of works -- from Lanford Wilson's Talley's Folly, to Athol Fugard's A Road to Mecca and Oscar Wilde's The Importance of Being Earnest. It also presented many Canadian works including Sharon Pollock's Saucy Jack (1995); Eugene Stickland's Sitting on Paradise (1996) and Some Assembly Required (1997); Jason Sherman's Three in the Back, Two in the Head(1999); Mansel Robinson's The Heart as It Lived (2000); David French's Salt-Water Moon(2001); George F. Walker's Problem Child; Maureen Hunter's Transit of Venus; Connie Gault's Red Lips (2003); Vern Thiessen's Einstein's Gift; Morris Panych's Girl in a Goldfish Bowl (2004) and Earshot (2006); Stephen Massicotte's Mary's Wedding (2005) and The Boy's Own Jedi Handbook (2005); David Belke's Ten Times Two (2006); Daniel MacIvor's Marion Bridge (2006), and Emil Sher's Mourning Dove.
Information provided by Kate Holt and Christopher Hoile.
Last updated 2013-03-21