Theatre Smith-Gilmour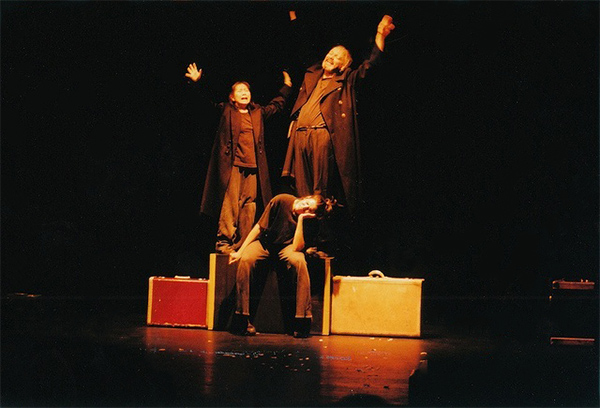 Chekhov's shorts, l-r Diana Tso, Patricia Marceau and Dean Gilmour.
Innovative physical theatre company, which has enjoyed international exposure, based in Toronto, Ontario. Theatre Smith-Gilmore was founded by Dean Gilmour and Michele Smith in 1980; they met in 1978 while studying at the School of Jacques Lecoq in Paris. Smith and Gilmour have since created 38 shows, 25 of which have been original plays, many adapted from cultural classics.
Theatre Smith-Gilmour is a theatre of image and action: The actor's imagination is at the centre of the process of creation and production. Performers articulate primarily with their bodies, expressing words, set and design.
The Company has created a wide range of productions for thirty years. Highlights from the past ten years include: Chekhov's shorts (2000-01), which played Factory Theatre, the Firehall Arts Centre in Vancouver, Workshop West Theatre, the Hong Kong Cultural Arts Centre, Eastern Front Theatre. the Saidye Bronfman Centre, and the Chekhov International Theatre Festival in Moscow.
Part II of their Chekhov Cycle, Chekhov longs…In The Ravine also had a successful run at Factory Theatre in February 2002, and at Carrefour International Theatre Festival in Quebec City; the Magnetic North Theatre Festival in Ottawa; the Festival TransAmériques in Montreal; the Yukon Arts Centre in Whitehorse; the RCA/Artistic Fraud of Newfoundland theatre in St. John's, Newfoundland; the Chiang Kei Sheik International Theatre Festival in Taipei, Tiawan; the Shanghai Dramatic Arts Centre in Shanghai; and the Chinese National Theatre in Beijing, China.
In 2007 Smith and Gilmour traveled to Shanghai to create and perform Lu Xun Blossoms the first Sino-Canadian co-production in theatre. With three actors from the Shanghai Dramatic Arts Centre and three actors from Canada, Lu Xun Blossoms premiered in Shanghai and toured to Beijing, Hong Kong, Guangzhou and Macau, China. The Canadian premiere was at the Luminato Festival in Toronto in June 2011.
In 2008, Katherine Mansfield opened in Toronto, to critical acclaim: "Katherine Mansfield adapts four stories in the company's signature Commedia dell'arte style. We see spinster sisters coming to grips with their father's death; a schoolgirl's erotic daydream; a mother's heartbreak at the loss of her soldier-son; and the cruel slaying of a duck. Mansfield's fiction comes out well though the Smith-Gilmour wringer… The troop's physicality makes the everyday emotive: a flurry of cacophonous meringue-crunching, for example, conveys profound uncertainty on the eve of hysterical grief" (Sheila Hanlon, EYE Weekly)
Also in 2008, Theatre Smith-Gilmour began to work with the Humber School of Drama to create a new original work. Over four months of development, the group worked on a total of 25 stories from the Brother Grimm. GRIMM, which included six of these stories, premiered at Humber College in November, 2008. GRIMM Too was presented in association with Factory Theatre in February 2010.
In October 2009, Smith and Gilmour collaborated with Adam Paolozza and Ravi Jain to create SPENT, "an absurd account of falling off the corporate ladder" (website). The production was nominated for three Dora Mavor Moore Awards, winning one for Best Performance by an Ensemble.
The Assholes: A Cabaret opened at the Factory Studio Theatre in April 2016. Using a bouffon style, it targets the exploitative 1% minority – the greedy hypocrites, the assholes, who control the world. The show challenges the lack of conscience in our world.
In 2016-17, Theatre Smith-Gilmour toured an "unsentimental" and physically strenuous interpretation of William Falkner's novel, As I Lay Dying to One Yellow Rabbit's High Performance Rodeo in Calgary and the PuSh International Performing Arts Festival in Vancouver.
Their productions have won ten Dora Awards.
Website: http://theatresmithgilmour.com
Last updated 2017-01-13