Vancouver Asian Canadian Theatre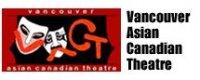 Non-profit theatre company, founded as a community theatre in 2000 by Joyce Lam, with the help of Tom Chin to produce plays that address the large Asian Canadian population in Vancouver, British Columbia. It was incorporated in 2001. The company's mandate is to attract Asian Canadian audiences to performances that reflect their community and history, and to provide opportunities for Asian Canadian theatre practitioners. To attract a broad cross-section of the population in terms of age and cultural history, Joyce Lam introduced Mandarin surtitles to productions in English. Joyce Lam was the first Artistic Director, directing over forty productions for the company.
The first productions in 2000 were Asian Canadian sketch comedies originally conceived for the Fringe Theatre Festival, and relocated to a larger venue. Lam then mounted a production of Henry David Hwang's F.O.B., and the positive response encouraged her to incorporate vAct.
The sketch comedy performances evolved into a competition, with groups from across North America, but the focus remains on local Asian Canadian talent.
Episode 1 of the hugely popular romantic comedy, Sex in Vancouver, premiered in 2003. Subtitled "Reflections & Deceptions," it was originally created for a Seattle company under the title Sex in Seattle by Kathy Hsieh, Serin Ngai & Colleen Parker. Five more episodes followed on an annual basis.
Leon Aureus's Banana Boys, and Hwang's Bondage were produced in 2007.
In 2008, the company mounted Neil Simon's The Odd Couple to demonstrate that Asian Canadians could play against type-casting, including roles associated with specific white actors. The same year, Lam produced weekly comedy sketch segments for AZN Lifestyles TV on CityTV.
In 2009, vAct produced its most successful show with local Asian Canadian actors: Rodgers & Hammerstein's Flower Drum Song, adapted to accommodate more contemporary attitudes and events.
In November 2010, vAct mounted an original Canadian musical about the discriminatory laws against Chinese immigrants in the early twentieth century, entitled Red Letters (dir. Andy Maton, music and lyrics and original book by Alan Bau, book by Kathy Leung).
In 2014,the Company co-produced Ga Ting by Chinese Canadian playwright Minh Ly with the Frank Theatre, a professional queer theatre company, based in Vancouver.
Tetsuro Shizematu's autobiographical monologue about his fraught relationship with his Japanese father, Empire of the Son (dir. Richard Wolfe) was presented as part the Vancouver East Cultural Centre's 2015/16 season, and was a big hit. It has subsequently toured across Canada.
vAct premieried Dirty Old Woman by Chinese Canadian playwright Loretta Seto in The Cultch's 2016/17 season, with a sold-out run.
In June, 2021, vAct announced the co-production of Bad Parent by Ins Choi with Prairie Theatre Exchange and Soulpepper Theatre Company, slated for its premiere at The Cultch in April 2022. "Norah and Charles are trying to navigate their life as parents of a toddler but are still trying to figure out who they are in relation to their son, to each other, and to the audience" (vAct website).
vAct stages its shows at several location throughout the lower mainland: Roundhouse Community Centre , Norman Rothstein Theatre, Waterfront Theatre, Firehall Arts Centre, Vancouver East Cultural Centre (The Cultch), and the Gateway Theatre.
Since 2013, Donna Yamamoto was the Artistic Producer. In 2017, she was recognized at the Jessie Richardson Awards for her work in developing three new works by Asian-Canadian playwrights for the 2015/16 Vancouver East Cultural Centre season. The current Managing Artistic Director is Derek Chan.
Website: www.vact.ca
Profile by Anne Nothof, Athabasca University
Last updated 2022-02-19