Varma, Rahul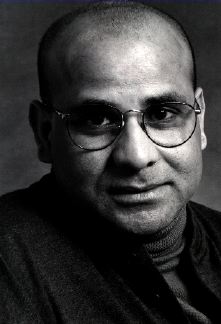 Rahul Varma
Director and playwright, born in India and based in Montreal, Quebec. He studied at the University of Lucknow.
His plays have been produced in Montreal, Toronto, Vancouver, and India.
Since 1986, Rahul Varma has been Artistic Director of Teesri Duniya Theatre (which he co-founded), a multicultural company dedicated to artistic diversity.
For many years, he was the editor of alt.theatre, a magazine which discusses the issues surrounding ethnic theatre. Although he had been working in community-based theatre for years, he exploded on the theatre scene in 1996 with his play Counter Offence, a powerful, multilayered work which was subsequently translated into French and co-presented with Théâtre de La Manufacture (1999) to huge success.
Most of his plays have premiered with Teesri Duniya: Bhanumati Pitara (1983); Ghar Ghar Ki Kahani (1984); Job-Stealer (1987); Immigration Game (1988); Isolated Incident (1988); Equal Wages (1989); Lands Where the Trees Talk (1990); No Man's Land (1992); Trading Injuries (CBC Radio, 1993). In 2001 Teesri presented his play, Bhopal, which exposes the disastrous consequences for local residents of a toxic gas leak from the Union Carbide site in northern India. Truth and Treason (Monument National, 2009) is set on the Iraq border in a post-Saddam era, focusing on a Canadian woman married to an Iraqi considered to be a terrorist, and whose daughter is shot by a U.S. Soldier. It was first presented as a staged reading at Factory Theatre's National CrossCurrents new play development program in 2007 (dir. Guillermo Verdecchia, and workshopped at Playwrights Workshop. In Decemeber 2016, retitled Dhokha, it was produced at the National Urdu Theatre Festival in Kolkata, India.
State of Denial (dir. Deborah Forde) was produced by Teesri Duniya in 2012. Odette, a Rwandan-borne Canadian filmmaker, travels to Turkey to investigate stories of genocide and hidden identity. When she interviews Sahana, an elderly and respected Muslim woman who has devoted her life to assisting Armenian survivors, she learns a chilling secret that challenges a long-standing state of denial that she must promise to make public at any cost (Teesri Duniya website).
Job-Stealer and Isolated Incident won juror's awards at the Quebec Drama Festival. In 1999, the Montreal English Critics Circle gave Rahul Varma an award for distinction for his body of work.
Profile by Gaetan Charlebois and Anne Nothof
Last updated 2019-12-23