Borden, Walter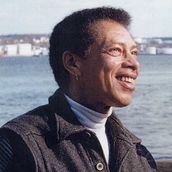 Walter Borden
Black-indigenous actor, poet, playwright, and teacher, born in New Glasgow, Nova Scotia in 1942. Walter Borden has degrees from Acadia University and the Nova Scotia Teacherís College. In the mid 1960s, he went to New York City to study acting at the Circle in the Square Theatre School and the Herbert Beghof Studio. He has been active in the civil rights movement throughout his career as a performer, author, and teacher.
Walter Borden joined the Neptune Theatre company in 1972, where he played in Djanet Sears' Harlem Duet; Michel Tremblayís Hosanna; Angelís in America; ; and Tartuffe, among others.
In respect to his role as Canada in Harlem Duet, Borden discovered that he was in effect playing his own father, a Black man from Nova Scotia, ďturning his body over to be a vessel.Ē But he believes that the play remains a Black North American love story, despite themes of racism, gender relations and more.
He has since appeared on stages across Canada, including the Stratford Festival. Since joining the company in 2003, he has appeared in twelve plays, including Shakespeareís Hamlet, Richard III, A Midsummer Night's Dream, The Merchant of Venice, Henry VIII; Aeschylus's Agamemnon; Jean-Paul Sartre's The Flies; Peter Hintonís The Swanne; and Djanet Sears' The Adventures of a Black Girl in Search of God.
At the Manitoba Theatre Centre, he appeared in James Weldon Johnson's God's Trombones: Seven Negro Sermons in Verse; and Tennessee Williams' Orpheus Descending. For Canadian Stage, he played in Cat on a Hot Tin Roof; and Fernando Sor's Krapp Wrote me This Letter. In 2013, he performed with Michael Learned in Driving Miss Daisy at Theatre Aquarius and the Mayfield Dinner Theatre, Edmonton. In 2018, he played Lear in an innovative interpretation of The Tragedie of Lear at the Palmerston Library Theatre in Toronto (dir. Chris Knight). In 2019, at the age of 77, Walter Borden appeared in Lilies (Les Feluettes) by Michel Marc Bouchard at Buddies in Bad Times.
He has recorded an album, Walter Borden Reads Shakespeare's Sonnets to the Music of Fernando Sor (1998), in collaboration with classical guitarist Paul Martell.
In 1986, he wrote and performed an autobiographical play Tightrope Time: Ainít Nuthiní More Than Some Itty Bitty Madness Between Twilight and Dawn, one of the first plays in the history of Black Canadian literature to directly present themes of male homosexuality. It was slated for production by the National Arts Centre in 2022, but delayed by a disruptive protest of anti-vax truckers in Ottawa. Borden's other writing credits include Testifyin' and Tellin' It Like It Is.
His film and television credits include Nurse.Fighter.Boy, The Event, Gerontophilia, Lexx and Platinum.
Borden was awarded the Queen Elizabeth II Golden Jubilee Medal, the African Nova Scotia Music Association (ANSMA) Music Heritage Award, and the Portia White Prize of $25,000, awarded annually by the Nova Scotia Arts Council for making a significant contribution to culture and the arts in Nova Scotia, and the Martin Luther King Jr. Achievement Award (2006) for his contribution to African-Canadian arts and culture He was named a Member of the Order of Canada in 2006, and in 2007 he was named a Doctor of Civil Law by Saint Maryís University.
Profile by Gaetan Charlebois
Last updated 2022-02-02