Carlson, Leslie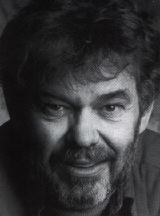 Leslie Carlson
Ontario-based character actor, born February 24, 1933 in Mitchell, South Dakota; died May 3, 2014 in Toronto of cancer at 81. After serving in the Air Force during the Korean War, Leslie Carlson attended the University of South Dakota, where he completed a Bachelor of Fine Arts degree, and a Master's degree in drama. An enthusiast of classical theatre, he undertook the role of Hamlet for an Oregon Shakespearean repertory company. He appeared with actor Patricia Hamilton in Mother Courage and Her Children, and they moved to Toronto in 1966, marrying in 1967. Two years after the birth of their son, they separated amicably.
Leslie Carlson actively contributed to the burgeoning new Canadian theatre scene in Toronto in the 1970s, including a premiere of Leaving Home at the Tarragon Theatre. He subsequently performed in every major regional theatre in Canada, including the Stratford Festival and Shaw Festival. He acted in the premiere of David French's Jitters; the premiere of Joggers by Allan Stratton (Toronto Free Theatre, 1982); the 1986 Centaur Theatre production of David Mamet's Glengarry Glen Ross, the 1993 Vancouver Playhouse production of Death and the Maiden; and the 1996 Canadian Stage production of Dr. Jeckyll and Mr. Hyde.
He appeared in Arthur Miller's All My Sons (1998, Theatre Calgary); in Wendy Lill's The Glace Bay Miners' Museum (1999, Factory Theatre); in the Theatre Calgary production of Philip Barry's Holiday (March, 2000); and in the Stratford Festival productions of A Streetcar Named Desire (dir. John Stephen Hirsch) and Tempest-Tost (2001).
He won a Dora Mavor Moore Award for his performance in the 1996 production of Athol Fugard's play Valley Song, in which he played dual roles. He also performed in London and off Broadway in New York.
Leslie Carlson appeared in four films by David Cronenberg: Videodrome (1983), The Dead Zone (1983), The Fly (1986), and Camera (2000); and in many television shows including The New Avengers, The X-Files, Road to Avonlea, and the CBC's Raku Fire for which he received an ACTRA Award.
With actor, dancer Joan Warren, whom he met at Stratford and married in 1983, Leslie Carlson had a second son, Edmund. His eldest son, Ben, is an actor and a Shakespeare enthusiast.
Source: Susan Ferrier MacKay. "Leading Man Leslie Carlson Left His Heart with the Theatre," The Globe and Mail 12 June 2014.
Last updated 2020-09-02