Chambers, Ron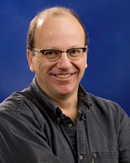 Ron Chambers
Playwright, director, and educator, born in Brandon, Manitoba, May 14, 1960, and raised on a dairy farm. Though he had intended to become an engineer, he studied drama at the University of Lethbridge, in Alberta, and has been teaching there since 1988.
Ron Chambers has written fifteen plays, eight of which have been professionally produced across Canada. They often feature socially marginalized and dysfunctional characters, black humour, scatalogical, rhythmic language, and grotesque scenarios, which surprise, sometimes shock, and always entertain.
Pretty Blue (Theatre Passe Muraille 1994) won the Alberta Culture Playwriting Award. It features a homeless man whose life intersects with an upwardly mobile legal aid lawyer and his politically correct college professor wife. She determines to save the misfit, whether he wants salvation or not.
In 1991, Chambers created a dance theatre work with Lisa Doolittle and musician Lael Johnston at the University of Lethbridge, entitled Into Africa, which was subsequently performed at One Yellow Rabbit. It is a satirical demonstration by a 1960s musically-challenged housewife of North American dances derived from African traditions.
Marg Szkaluba (Pissy's Wife) (Theatre Network 1994), a Country and Western musical, was nominated for an Sterling Award. It was remounted in March 2011 by Verb Theatre, Calgary, directed by Jamie Dunsdon, and with Sharon Pollock playing the role of the abused rural housewife who finally leaves her marriage.
Dirt (Theatre Network 1996, dir. Ben Henderson) considers the lot of a murder suspect who is welfare dependent, ignorant and unmotivated. He is deemed socially expendable, and is violently eliminated from the welfare payroll. The play was nominated for a Sterling Award, and subsequently produced in Los Angeles.
Leather Leather was produced on the Fringe Movement circuit in 1998; and The Dead Box about life and death in a feedlot, appeared at the 2002 Edmonton Fringe Festival.
In January, 2001, Chambers' acclaimed play Respectable opened at playRites (dir. Vanessa Porteous). Respectable is about two low-lives looking for the good life, who meet a sinister businessman and are offered a contract to sell "fireworks" to highway gas stations. But the business turns out to be far from respectable, and they find themselves in a moral quandary: making easy money at the expense of the lives of unknown victims of violence. The play asks who is respectable--"the person who has earned it through good deeds and a good heart, or the person who has power, money and influence?" (Colin MacLean, The Edmonton Sun 3 April 2001).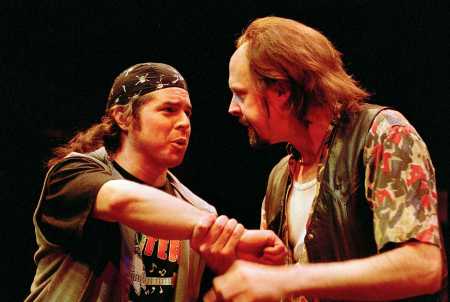 The absurdist revenge comedy 17 Dogs, set in a "third-rate auto-wrecking business" which crushes more than cars, premiered at Workshop West Theatre (dir. Ron Jenkins) in 2003. It was published in Canadian Theatre Review 136 (Fall 2008). In 2007, The Knowing Bird premiered at playRites (dir. Marianne Copithorne). It portrays the relationship between an obese father and his materialistic daughter, both of whom attempt to reform to win a bet.
The Stage That Made Us was commissioned by the Empress Theatre, Fort MacLeod Alberta, in celebration of the theatre's 100th anniversary, and opened at the Empress on June 29, 2012. It incorporates some of the history of the theatre and the town from 1912 to 1936, including vaudeville acts. A cowboy drifter and an opera aficionado meet and fall in love at the Empress, and their lives are influenced by their ongoing association with the theatre.
In 2013, Chambers wrote Estuary for a cast of eighteen of his University of Lethbridge students. Set in a large, decaying house with many exits and entrances, it explores personal relationships between students in existential terms: the nature of reality and of dreams, the brief hallucinatory consciousness which may occur between periods of deep sleep, and the importance of connection to the "awake" world.
In March 2016, Chambers directed another play he wrote for his drama students: Of Least Concern portrays the diverse reactions of family members to a cougar hunt undertaken by the father. It interrogates the human destructive relationship to nature.
Chambers directed a production of A Comedy of Errors by the Lethbridge Shakespeare Performance Society at the Empress Theatre in 2017 -- set in a small cowboy town in southern Alberta.
A collection, Three Nasty Plays, including Wife..., Blue... and Dirt, was published by Red Deer College Press (1997). The collection won the 1997 Gwen Pharis Ringwood Award for Drama from the Writers Guild of Alberta.
Ron Chambers lives in Lethbridge with his family.
Further reading: Shelley Scott. "Interview with Playwright Ron Chambers," Canadian Theatre Review 136 (Fall 2008): 65-68.
Website: www.people.uleth.ca/~ron.chambers
Profile by Anne Nothof, Athabasca University
Last updated 2020-10-28