Ferley, Susan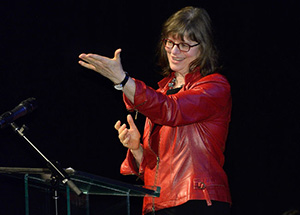 Susan Ferley
Director and actor, Susan Ferley was born in Winnipeg, Manitoba. She graduated with a Bachelor of Fine Arts in Acting from the Drama Department at the University of Alberta, and was inspired early in her career by mentors Christopher Newton, D. Michael Dobbin, Bernard Hopkins and David William.
She has acted in The Diary of Anne Frank (Carousel Theatre), Glass Menagerie (Western Canada Theatre Company), and If We Are Women (Globe Theatre), among other plays.
She was Artistic Director of the Globe Theatre in Regina 1990-1998, where she commissioned and produced the work of several Saskatchewan writers including Greg Nelson's Speak, Ken Mitchell's The Great Electrical Revolution and several plays by Gail Bowen.
From 2001 to 2016, she was Artistic Director of the Grand Theatre, London, the longest-serving AD in the theatre's 42-year history as a professional theatre. During her tenure, she eliminated the massive inherited million-dollar deficit on a $4-million budget, and directed some of the theatre's most notable productions, while establishing several important initiatives. She spearheaded the annual programming of The Grand Theatre High School Project (HSP)-–the only program of its kind in North America. She directed sixteen HSP productions of musicals, and mentored and inspired hundreds of students, many of whom went on to professional careers in theatre. She has also developed of a variety of innovative apprenticeship programs that established the Grand as a teaching theatre. She founded the PlayWrights Cabaret showcasing new works by local writers, the High School PlayWrights Cabaret for aspiring playwrights, and The Grand Academy, a week-long musical theatre intensive offered twice a year. She engaged in creative collaborations with artists and creators from across the country to produce Intimate Apparel, Other Desert Cities, and A Streetcar Named Desire. She also established the annual tradition of the Grand Theatre holiday production, which proved very popular with family audiences.
After a year studying at the Royal Central School of Speech and Drama in London, Ferley taught at George Brown College in Toronto. In 2019, she accepted the position of Artistic Director at the Cameco Capital Arts Centre, Port Hope.
She has taught in theatre training programs across the country, including Studio 58, Banff Centre for the Arts, Drama Department at the University of Alberta, Theatre Program at the University of Regina, and the National Theatre School of Canada.
She served on the Board of Directors of Canada Council for the Arts from 1998 to 2001.
Source: Grand Theatre website: www.grandtheatre.com
Last updated 2020-12-03