Barry, Fred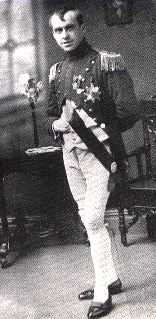 Fred Barry as Napoleon in Gaston Arman de Caillavet's and Robert de Flers' Le Roi de Rome
Quebec-based actor, director and producer, born in Montreal in 1887, of an Irish father and a French-Canadian mother; died in 1964.
Fred Barry began his activity in theatre in the transitional phase of Quebec drama, winning popularity, first as an amateur and then (taking an unheard of step at the time, the early 1910s) as a professional, producing and starring in a wide range of works from those of Sardou and Feydeau to broad entertainment pieces like the lurid Aurore, l'enfant martyre (1929). He served as mentor to a generation of writers and performers including Gratien Gélinas, Henry Deyglun and Germaine Giroux. He joined forces with Gratien Gélinas and appeared in and directed the Fridolinades revue and appeared in and co-directed the premiere of Tit-Coq.
He also performed in radio drama (notably in the classic series, Un homme et son péché), and film (notably opposite the French star, Madeleine Renaud in the adaptation of the Canadian classic, Maria Chapdelaine).
He was an actor of great charm and naturalism, particularly so if one looks at the style of the era.
The studio space of the Nouvelle Compagnie Théâtrale / Théâtre Denise-Pelletier is named in his honour, as is a square in the Place des Arts complex.
Viewings: Fred Barry, comédien, National Film Board, 1959, dir. Claude Jutra
Profile by Gaetan Charlebois. Additional information provided by Bruno Lajeunesse.
Last updated 2020-03-20