Gow, David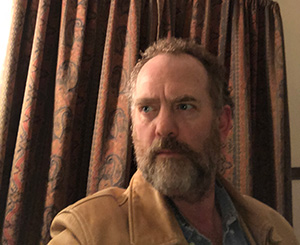 David Gow
Playwright, actor, and filmmaker, David Gow was born in Cornwall Ontario in 1964. He holds an MFA in Theatre / Playwriting from York University, Toronto, and studied Theatre Performance at Concordia University, Montreal.
His most-produced play Cherry Docs (Volcano Theatre and Factory Theatre, 1998, starring RH Thomson and Ross Manson) shows how two antagonists work through radical differences towards a better understanding of themselves and each other: A neo-Nazi skinhead, wearing cherry-coloured Doc Martens that he uses as weapons, is accused of a racially motivated murder of a Pakistani-Canadian. He is defended by a liberal, court-appointed Jewish lawyer (https://www.davidgow-playwright.com/plays). The play was inspired by a beating suffered by a gay friend and Concordia classmate of Gow's. It has been produced over seventy times worldwide, including several times in Canada, the United States, and Berlin, Germany, where is ran for seven years with Vanganten Buhne Theatre. Cherry Docs is published by Scirocco Drama.
The Flight of Peter Pumpkin-eater (Joe's Theatre in Tarragon Extra Space, 1992) is a one man show in one act which examines society through surreal remembrances and observations.
The Friedman Family Fortune (Centaur Theatre, 1996) "focuses on the emotional fallout that results when a publicly adored, iconic, family business passes from the hands of one generation to the next" (website). It is published by Playwrights Canada Press.
Bea's Niece (25th Street Theatre, 1999) is "an exploration into the mind and psyche of a female novelist secluded in a psychiatric hospital" (website). It is published by Playwrights Canada Press.
Relative Good (Great Canadian Theatre Company, 2005) is a political satire which tells the story of a Syrian-born Canadian citizen, who is detained in a New York port of entry by the Department of Homeland Security. "The play satirizes Canada's unwillingness to do the right thing by a citizen under arrest and being held outside of the country. It also attempts to put a human face on a man accused of being a terrorist, a man who is not given due process, nor proven guilty—simply sentenced" (website). It is published by Scirocco Drama.
Wake of the Bones (Hudson Village Theatre, 2010) "is a musical drama, which details the haunting story of the discovery of a mass grave of Irish people, in 1859 near Montréal's Griffintown, during the excavations for the Victoria Bridge. Only eleven years before building of the bridge began, six thousand Irish had perished in the 'fever sheds' at Windmill Point, just as they were arriving in Québec, hoping they were safe from the potato famine which had half destroyed the Irish. This is the story of the rebirth of a community, through the burial of its own" (website).
In Elephant (Storm Warnings Theatre, Portland, 2018), two couples who have been having dinner together for years, engage in a more candid honesty that results in changes in assumptions and expectations.
Boilerplate was slated for production at Storm Warnings in May 26, 2019, but cancelled: "four women in an arbitration setting, [try] to address a conflict concerning consent, rape, pornography, the internet, and damages- both personal and financial" (website).
In March 2020, Gow gave a staged reading of his latest play, Steam for TheatreOne in Nanaimo in the lobby of the Port Theatre, when the Covid-19 pandemic was forcing theatre closures across Canada and the world.
Gow's plays have been produced across Canada by Factory Theatre, Tarragon Theatre, Touchstone Theatre, Manitoba Theatre Centre, Grand Theatre, London, Winnipeg Jewish Theatre, Great Canadian Theatre Company, and Joe's Theatre among many others. They have also travelled to the United States, England and Europe, including productions in London, New York City, Berlin, Rome, Sao-Paulo Tel-Aviv, Jerusalem, Krakow, Warsaw, Manchester, Boston, Philadelphia, Los Angeles, Topanga, San Francisco, Atlanta, New Orleans, Chicago, and Memphis.
He has also written plays for CBC Radio International.
His first feature film Steel Toes (2007), based on his hit play Cherry Docs, has won numerous awards in the US and Canada, including Best Feature Film (Beverly Hills Film Festival, 2007) and Best Independent Feature in America (Cine Golden Eagle, 2007). He is also an Executive Producer on the recently released film The Drawer Boy, based on the play by Michael Healey. Gow's adaptation of his own material to film has reached a wide audience of millions throughout the world in English and in translation.
His work has received major awards from the Canada Council for the Arts, the Ontario Arts Council and CALQ. He has been a longtime member of the Dramatists Guild of America and Playwrights Guild.
As an actor, he has appeared in theatres in Montreal, Toronto, Halifax, across Western Canada, and as a character actor in over forty film and television projects.
He particularly likes the plays of Arthur Miller, David Mamet, Tennessee Williams, Timberlake Wertenbaker, Athol Fugard, Michael Healey, Judith Thompson and Djanet Sears.
David Gow currently lives in Chemainus, British Columbia.
Last updated 2021-01-08