Hirsch, John Stephen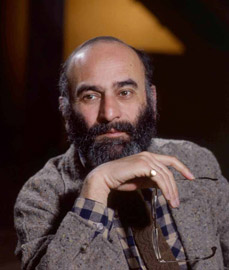 John Stephen Hirsch
Director born in Siófok, Hungary in 1930, died in Toronto, Ontario, in 1989. His family lived in Endrod (today GyomaEndrod). His parents and brother died in the Holocaust. Hirsch, then 14, was hidden from the Nazis by a maid who took him to the Budapest Ghetto.
John Hirsch's theatrical impulses started early. After the war, he was in a UNRRA (refugee) camp in Aschau, Germany (1946). Together with his childhood friend, Marianne Bolgar (d. May 13, 2001, in Montreal), they produced The Snow Queen for the refugee children in the camp. Then, with the help of a cell of the Zionist Underground, he was part of a group of 175 Jewish orphans smuggled into Romania. From there he went to Greece, then Israel, before finally coming to Winnipeg, Manitoba in 1947, sponsored by the the War Orphans Project of the Canadian Jewish Congress.
He studied at the University of Manitoba and formed a children's company. In 1957, he co-founded, with Tom Hendry, Theatre 77 which, in 1958, joined with Winnipeg Little Theatre to become the country's first regional theatre, Manitoba Theatre Centre. Hirsch was the company's first artistic director, leaving in 1965.
He made his Stratford Festival debut, invited by Michael Langham, with The Cherry Orchard. He was associate director of the company from 1967-69, and in 1976 his production of Chekhov's Three Sisters starring Marti Maraden, Martha Henry and Maggie Smith was breathtaking. His love-hate relationship with Stratford, its critics and audience reached a culmination point in 1980. After some disastrous shenanigans involving Stratford's board of directors and their choices for a new artistic director, Hirsch was invited to be the company's sole artistic director from 1981-85.
He also directed at the National Arts Centre, Toronto Arts Productions, Young People's Theatre, and the Shaw Festival.
He was head of CBC television drama from 1974-78.
Hirsch was awarded the Order of Canada in 1967. In the United States, he was awarded an Obie, Outer Circle Critics' and Los Angeles Drama Critics' Circle Awards for his productions.
He was one of the first high-profile Canadian artists to die of AIDS. In 1989, the Manitoba Foundation for the Arts established the John Hirsch Award for Most Promising Manitoba Writer in his honour.
John Hirsch's directing style was highly imaginative while also being text-driven. Though he often startled purists with his interpretations of a work's subtext (not to mention his prickly temperament), he was also always prepared to defend his choices.
A play based on his life, entitled Hirsch was created by Alon Nashman and Paul Thompson for the Stratford Festival in 2012 (directed by Thompson, and starring Nashman in the solo role). In his program note, dramaturge Bob White speculates about the complex nature of theatrical biographies, and of Hirsch's life: "John Hirsch was many things - a great artist, a passionate patriot, a self-absorbed drama queen and a visionary in many ways - but without doubt, he was a very special soul, and we are fortunate to be able to call him our own..."
Readings: Martin Knelman. A Stratford Tempest, Toronto: McClelland and Stewart,1982.
Fraidie Martz & Andrew Wilson. A Fiery Soul: The Life and Theatrical Times of John Hirsch. Montreal: Vehicule Press, 2011.
Profile by Gaetan Charlebois. Additional information provided by Zoltan E. Szabo, Lil Blume, and Anne Nothof.
Last updated 2012-07-12