MacDonald, Ken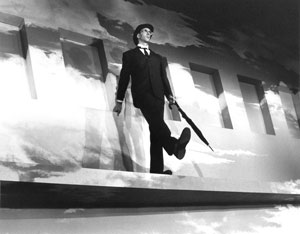 7 Stories by Morris Panych, Arts Club Theatre, 1989. Peter Anderson as the Man
Set Design: Ken MacDonald
Award-winning set and costume designer, playwright and actor, based in Toronto, Ontario and Vancouver British Columbia. Since completing a Bachelor of Education in 1972 from the University of British Columbia, Ken MacDonald has designed for all of the major theatre companies in Canada. His career has long been associated with that of playwright and director Morris Panych, as actor, and director, but primarily as designer. Together, they have completed over 100 theatre projects. Panych believes that "Ken has an innate understanding of the underlying absurdity of [his] works, while at the same time understanding that, at its core, there is a strong undercurrent of realism."(Program note, The Shoplifters, Theatre Calgary 2015).
Selected design credits include: Frankenstein Revived (Stratford Festival 2020); The Shoplifters (Theatre Calgary 2015); Sextet (Tarragon Theatre 2014); Glengarry Glen Ross) and Faith Healer (Soulpepper Theatre Company 2010); Sweet Charity (2015), When We Are Married (2014), Arms and the Man (2014), The Doctor's Dilemma (2010), Hotel Peccadillo, Design for Living,Nothing Sacred (2004), You Never Can Tell, Coronation Voyage (2003), Puttin' on the Ritz--all at Shaw Festival); The Overcoat, (Vancouver Playhouse 1997, Canadian Stage and Canadian, US and UK tours); Habeas Corpus, Vigil, Take Me Out, Amadeus, Sweeny Todd, Hysteria (Canadian Stage); Blithe Spirit, The Government Inspector (Soulpepper Theatre Company); Benevolence, The Dishwashers, Earshot, Girl in the Goldfish Bowl, 7 Stories (1989), Ends of the Earth (1992), Vigil (1993), White Biting Dog (1994), 2000 (1996), Lawrence and Holloman (1998), Pal Joey, (Tarragon Theatre); Waiting for Godot and many others for Arts Club Theatre; Fronteras Americanas, The History of Things to Come, Death and the Maiden, My Children My Africa, Waiting for the Parade (1995), The Struggle of the Dogs and the Black (Vancouver Playhouse); Moby Dick ( Stratford Festival); Susannah, The Rake's Progress,, The Threepenny Opera (Vancouver Opera).
Ken MacDonald's designs are visually arresting, surrealistic, and highly metaphoric. He uses trompe l'oeil effects to manipulate perspective and composition through strong geometrical shapes and intense colour. For 7 Stories he created a surreal sky evoking the paintings of Rene Magritte on which was placed a series of windows overlooking a ledge. Characters appear and disappear through the window spaces, much like the Laugh-in American sketch comedy television series in the late 1960s.
For The Shoplifters, he created the storage room of a grocery store with hundred of cardboard boxes stacked up to resemble prison walls, with occasional niches for bottles or boxes, lit up like artifacts.
His designs are featured in Scenography in Canada by Natalie Rewa (University of Toronto Press, 2004).
Among his many awards are: Gemini Award, Betty Mitchell Award, three Dora Mavor Moore Awards, and seventeen Jessie Richardson Awards. His design for The Overcoat was featured at the Prague Quadrenniel in 1999.
Website:www.kenandmorris.com
Profile by Anne Nothof, Athabasca University
Last updated 2019-12-23