Stratford Festival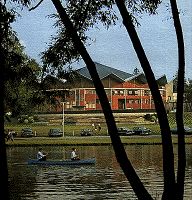 Internationally acclaimed theatre festival and company, based in Stratford, Ontario, founded in 1953 by local journalist Tom Patterson. Patterson had long dreamed of having a festival of the works of Shakespeare in the town and found the local support for such a project before he met with noted British director Tyrone Guthrie, following the advice of Robertson Davies and Dora Mavor Moore. Guthrie agreed to mount two works on a thrust stage in a tent for the first season: Richard III and All's Well That End's Well. Noted British actors Alec Guiness, Irene Worth, Douglas Campbell, and Michael Bates were lured to the town to play major roles. The thrust stage designed by Guthrie and Tanya Moiseiwitsch approximated the design of the Globe stage in London, and the auditorium evoked the configuration of a Greek amphitheatre, both allowing for lavish spectacle, movement, and flexibility in the staging, and intimacy in the vocal and physical interaction with the audience. Richard III opened the Festival July 13, 1953. The first Festival ran six weeks. The project soon captured the imagination of the world.
The second season featured three plays including Oedipus Rex, which featured stunningly beautiful masks, and starred James Mason. By 1957 the Festival Theatre had opened, designed by Robert Fairfield with consultation from Guthrie, and incorporating many of the elements of the original stage in the tent. It seats over 2,200 spectators. In 1963 the Festival acquired the proscenium arch Avon Theatre (1000 seats), and in 1971 began to lease a curling rink (renamed the Tom Patterson Theatre) for workshops and more experimental works. This was replaced in 2020 by a splendid new building, the Tom Patterson Theatre Centre, accommodating a 600-seat theatre in the round, a garden, cafe, and open spaces for music and speakers.
In 1999 the company launched a classical theatre training program, a seven-week course for young actors who will then join Stratford's Young Company. In 2000, the company received a $1 million grant from the Stratford City Council to renovate the Avon Theatre (part of a $12 million renovation project for the house). In 2002, for its 50th anniversary, it launched a massive season which included a new venue (The Studio Theatre) which presented plays by established and upcoming Canadian playwrights, and performances on the larger stages by star veterans including Christopher Plummer, Cynthia Dale and Colm Feore.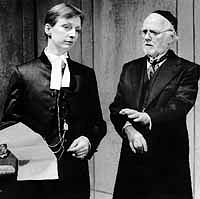 Artistic Directors: Tyrone Guthrie (1953-55); Michael Langham (1956-67); Jean Gascon (1968-74); Robin Phillips (1975-80); John Hirsch (1981-85); John Neville (1985-89); David William (1990-93); Richard Monette (1994-2007); Des McAnuff, Marti Maraden and Don Shipley, and Antoni Cimolino (2012).
John Hirsch's appointment followed the most raucous controversy in the life of the organization. After Robin Phillips' resignation, the board of directors attempted to find a made-in-Canada Artistic Director as the Festival had finally responded to criticism about Canadian content. The board, having apparently learned nothing from Julius Caesar or Antony and Cleopatra about too many co-directors, appointed a cadre of four directors, all (then) ill-equipped for the fiscal/artistic tightrope the Festival must always walk. They were: Martha Henry, Urjo Kareda, Pam Brighton and Peter Moss. This group of directors was dismissed two months after their appointment in a national media brouhaha, and Muriel Sherrin, the company's producer, selected the works for the 1981 season. (For a fascinating account of this event, see Martin Knelman's A Stratford Tempest, Toronto: McClelland and Stewart, 1982; also see Documents of Interest - A Stratford Tempest, December 6, 1980.) The board wanted to appoint British titan, John Dexter, but Dexter was refused a work permit. Hirsch, who arguably should have been appointed in the first place, was asked to come in. (He had been associate director at the beginning of Jean Gascon's reign.)
In March 2008, the Festival announced that Marti Maraden and Don Shipley would not continue as artistic directors for 2009. General director Antoni Cimolino and the Festival's Board of Governors asked co-artistic director Des McAnuff to serve as sole artistic director. Des McAnuff was artistic director of La Jolla Playhouse in San Diego for 20 years. He is a native of Scarborough, Ontario, and spent a number of years working with Joseph Papp at the New York Shakespeare Festival's Public Theatre. He was a director at the Stratford Festival in the 1980s during the tenure of John Hirsch. In 2012, Antoni Cimolino was appointed artistic director.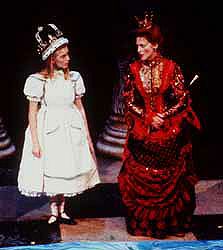 Plays: With the presentation of Titus Andronicus in 1980, the company had presented all of the plays of the standard canon (many of them several times, some of them in adaptation). But from the second season they had begun to go outside the Shakespearean opus and backward and forward in theatrical history (ie: Tamburlaine the Great, 1956, Three Farces by Molière, 1956, The Beggar's Opera, 1959, A Man for All Seasons, 1986). The company also experimented with Canadian theatre with works like Roch Carrier's La Guerre, Yes Sir! (1972); Henry Beissel's Inook and the Sun (1973); Sharon Pollock's Walsh (1974) and One Tiger to a Hill (1990), Michel Tremblay's Forever Yours, Marie-Lou (1990), Les Belles-soeurs (1991) and Bonjour, là, bonjour (1992); the premiere of Elliott Hayes' Homeward Bound (1991); and Djanet Sears' Harlem Duet (2006).
The Festival currently has a tripartite approach to the development and production of Canadian plays: commissioned new works from prominent Canadian playwrights such as Morris Panych, Judith Thompson, and John Mighton; revisiting the canon of Canadian classics by playwrights such as Tremblay and George F. Walker; and developing new work. The 2007 Playwrights Retreat hosted eight diverse playwrights in different stages of their careers. For the Festival's 60th anniversary season, half of the productions were Canadian works, including The Best Brothers by Daniel MacIvor, The War of 1812 by Michael Hollingsworth, Hirsch, created by Alon Nashman and Paul Thompson, Wanderlust by Morris Panych, and MacHomer by Rick Miller. More recently, the Festival has featured more inclusive and culturally diverse works and performers: in 2017 it premiered The Breathing Hole by Colleen Murphy (dir. Reneltta Arluk, with an Inuk cast), which recounts 500 years of Canadian history from the perspective of a polar bear. All but Wanderlust, however, were mounted in the small Studio Theatre.
The Festival found its motherlode in the works of Gilbert and Sullivan (ie: The Mikado 1984, The Pirates of Penzance 2012) and in musicals (ie: My Fair Lady, 1988 and 2002; Gypsy, 1993; The Boy Friend, 1995 and 2006; Camelot, 1997; Man of La Mancha, 1998; Oliver, 2006; and Oklahoma (2007).

The Boy Friend, 1995
Players: Any arguments the Festival may face about the dearth of Canadian plays in its large theatre spaces, it can easily be countered with the abundance of talented Canadian artists its has hosted or nurtured, as well as the imports who have decided to stay a while like Nicholas Pennell, Marti Maraden and Brian Bedford). Lost sometimes in the floodlights aimed at Alec Guiness, Maggie Smith, Peter Ustinov, and the like, many of Canada's finest actors, directors, designers, composers and writers have produced magnificent creations at the Festival: William Hutt, Jean Gascon, Richard Monette, John Hirsch, Patrick Clark, James Reaney, Harry Frehner, Jackie Burroughs, Susan Benson, Bruno Gerussi, Michael Eagan, Douglas Rain, Geraint Wyn Davies, Astrid Janson, Martha Henry, Diana Leblanc, Gabriel Charpentier, Colm Feore, Henry Czerny, Hume Cronyn, Andrew Jackson, Albert Millaire, Monique Leyrac, Christina Poddubiuk, Geordie Johnson, Loreena McKennitt, Tony Nardi, Louis Negin, Susan and Janet Wright, Martha Burns, Cynthia Dale, Michael Whitfield, Mervyn Blake, Bernard Hopkins, Jonathan Crombie, William Needles, Phillip Silver, Joyce Campion, Stephen Russell, Lee MacDougall, Domini Blythe, Patrick Christopher-Clark, Stephen Ouimette, James Blendick, Wayne Best, Juan Chioran, Megan Follows,Ted Follows, Antoni Cimolino, Dixie Seatle, Tom McCamus, and literally thousands of others.
The Company is funded primarily by ticket sales and donations, with assistance from the Canada Council and the Ontario Arts Council. It runs for nine months of the year, with over 500 performances, has a permanent administration and requires an acting corps of 110 to 130. The Covid-19 pandemic in 2020, during which all theatres were closed, was financially devastating, and the opening of the new Patterson Theatre was delayed. The Festival responded by making available filmed productions of its past works. It reopened in outdoor spaces in the summer of 2021, with a production of The Rez Sister by Tomson Highway.
The Company maintains its own archives, but there are holdings in the L.W. Conolly Theatre Archives of the University of Guelph, Ontario.
Profile by Gaetan Charlebois. Additional information provided by Lindy Cooksey, L.W. Conolly, Linda Butler, and Anne Nothof.
Website: www.stratfordfestival.ca
Last updated 2022-03-03