Micone, Marco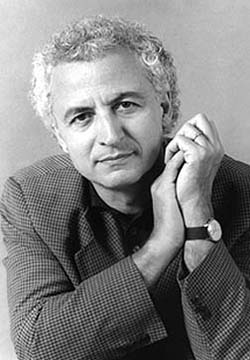 Marco Micone
Translator/playwright born in Italy in 1945, who came to Quebec in 1958. Although he was refused admission as a young student to l'école Saint-André-Apôtre because his first language was Italian, he subsequently achieved an MA in French literature from McGill (1971); his thesis was on Quebec playwright, Marcel Dubé. From 1970, he taught Italian literature at Vanier College.
His plays, Gens du silence, Addolorata, Déjà l'agonie, and Babele, examine "ethnic duality and identity in French Canada, the function of different languages in nationalistic Quebec, the political, social and educational problems of immigrants in the French province" (Pivato). In his plays, immigrant Italians find themselves "voiceless, invisible, and powerless" (Pivato). Déjà l'agonie was a finalist for the Governor General's Award and won the Grand Prix du Journal de Montréal in 1989. Addolorata was a finalist for the latter prize.
Among his translations are Pirandello's Six Characters in Search of an Author as Six personnages en quête d'auteur (Théâtre du Nouveau Monde/TNM, 1993, directed by André Brassard), the huge hit Goldoni's La Locandiera (title retained, TNM, 1994, directed by Martine Beaulne) and a stunning adaptation of Shakespeare's Taming of the Shrew as La Mégère apprivoisée (TNM, 1995, Beaulne). He also adapted Carlo Gozzi's L'oiseau vert (TNM, 1998, Paul Buissonneau).
An active supporter of the Quebec Nationalist movement, he has been a spokesman on immigrant and language issues. He believes that one is not born Québecois; one becomes Québecois.
Voiceless People and Addolorata: Two Plays (trans. Maurizia Binda) was published by Guernica Editions, Fall 2001.
Reading: Erin Hurley. "Devenir Autre: Languages of Marco Micone's 'culture immigrée,'" Theatre Research in Canada 25 1.2 (Spring-Fall 2004): 8-14.
Joseph J. Pivato. "Five–Fold Translation in the Theatre of Marco Micone," Canadian Theatre Review 104 (Fall 2000): 11-15. (http://mais.athabascau.ca/faculty/jpivato/mmicone.php)
Profile by Gaetan Charlebois
Last updated 2021-05-10