Bellamy, Mark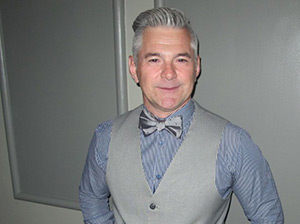 Mark Bellamy. Photo by Bill Brooks, Calgary Herald.
Director, choreographer, and actor, who has worked across Canada and the U.S. and is currently based in Calgary Alberta. Mark Bellamy was born in Winnipeg, and graduated from the University of Calgary with a BFA in 1986.
Bellamy has been involved with Vertigo Theatre in Calgary for eleven years as actor and director, and Artistic Director from 2004-12. He was Artistic Producer of Lunchbox Theatre for three years (2014-17).
Recent Calgary performing credits include: Moon, Moon, No Moon for One Yellow Rabbit, and the premiere of Legislating Love: The Everett Klippert Story by Natalie Meisner for Sage Theatre. In 2019, he played Mr. Fezziwig in a revamped interpretation of A Christmas Carol at Theatre Calgary.
At the Citadel Theatre, he has acted in Fiddler on the Roof, May Fair Lady (1986), Hello Dolly!, Lady Be Good, and Camelot. More recently, he appeared in Cocktails at Pam's (2016) and The Finest of Strangers (2018) both by Steward Lemoine at Teatro La Quindicina.
He has received several Betty Mitchell Awards for his choreographic work in Calgary: for Urinetown: the Musical (Ground Zero Theatre/Hit & Myth Productions 2007); Rough Crossing (Theatre Calgary 2001); and Falsettos (Alberta Theatre Projects 1999). In 2006 he was awarded the Greg Bond Memorial Award for outstanding contribution to musical theatre in Calgary, and a Betty Mitchell Award—Outstanding Production of a Musical—for Little Mercy's First Murder by Morwyn Brebner (Ground Zero/Vertigo Theatre). In 2008 he won a Betty Mitchell Award—Outstanding Production of a Musical for The Mystery of Edwin Drood—(Vertigo Theatre); and an Angie Award—Best Direction for Sherlock Holmes: The Final Toast at the International Mystery Writer's Festival. In 2011 he won another Betty for Outstanding Direction of The 39 Steps. He was also the recipient of a Queen Elizabeth II Diamond Jubilee Medal in 2013.
Last updated 2019-12-21