Needles, Jane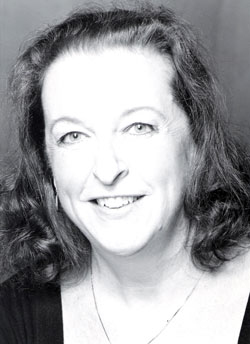 Jane Needles
Quebec-based arts administrator and teacher, daughter of actor William Needles, and older sister of Dan Needles. She grew up in Ontario, and studied at the École des Hautes Études Commerciales (Université de Montréal). Throughout an extensive career, she has maintained an active role in the arts world as a volunteer lobbyist, board member, consultant, teacher and participant in many groups and committees, both French and English. Her involvement with both cultures has increased her awareness of their complex diversities.
She has served as production manager, stage manager or production coordinator for many companies over the years, including Expo '67, National Arts Centre, Toronto Arts Productions (CanStage), Manitoba Theatre Centre, Vancouver Playhouse, the Stratford Festival, the Théâtre du Nouveau Monde, the Centaur Theatre. She has travelled across Europe to Russia on tour with the Théâtre du Nouveau Monde, and toured twice across Canada with Les Jeunes Comédiens.
She was also the founding-General Manager for the Montreal Young Company, Bill Glassco's troupe (1999); the General Manager for Repercussion Theatre (1996-99); and administrator for Montreal's Association of Producing Artists (1985-89, artistic director: Jack Langedijk), the Saidye Bronfman Centre (1985-86), Encore Theatre (1982-84) and CentreStage, in Toronto (1982-83).
She has served as community events coordinator for the City of Westmount, as assistant to the director of space planning and development at Concordia University, as well as the facilities manager for the University's Hall Building and as concert hall manager for the new Oscar Peterson Hall.
She was associated with the Dominion Drama Festival in Quebec in its later years as adjudicator for technical aspects of production.
She has taught or guest lectured at the National Theatre School of Canada, Concordia University, Collège Rosemont, and McGill University. She was a guest lecturer in Puebla, Mexico for the Benemérita Universidad Autónoma de Puebla. Currently she teaches Arts Administration and Marketing at Bishop's University, Sherbrooke, Quebec, and at the University of Windsor; and mentors with organizations such as Business for the Arts, the HEC, La Machinerie (Montreal) and Futurepreneur.
She was the Executive Director of the Quebec Drama Federation until 2014.
Married to researcher Dr. Edward Bradley, she is the mother of four daughters and resides in Montreal, Quebec.
Last updated 2017-04-10