Nielsen, Leslie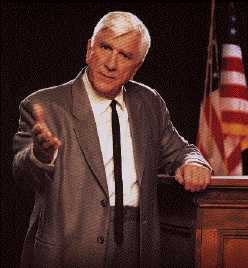 Leslie Nielsen in his one-man show about lawyer Clarence Darrow by David W. Rintels
Amiable comic actor born in Regina, Saskatchewan in 1926, died November 28, 2010 in Fort Lauderdale, Florida. He has worked primarily in American film and television, with occasional forays into theatre.
He grew up in Fort Norman, Yukon, where his father served with the RCMP, and attended school in Edmonton Alberta, graduating from Victoria Composite High School in 1942. Nielsen served with the RCAF as a tail-gunner in WWII and, on his return to Canada, worked in radio before studying at Lorne Greene's Academy of Radio Arts in Toronto. He received a scholarship to go to New York and perform with the Neighbourhood Playhouse. He studied with Sanford Meisner and at the Actors Studio before beginning his career in television. According to Nielsen, in his first year of television he performed in 46 live shows and received the sum of $5,000.
He was the heavy in a raft of B movies until he began to perform in comedy, breaking through with 1980 hit Airplane. He has since been seen in many screwball comedies, notably in the Police Squad series, and in Men with Brooms (2002) with Paul Gross, building a large fan base.
He has occasionally performed in Canada, notably in the CBC TV version of John Coulter's Riel.
On stage, he performed in his one-man show Darrow, which he toured extensively, notably to the Royal Alexandra Theatre, National Arts Centre, Citadel Theatre, and in 1999 to Vienna's English Theatre. He also played opposite Carol Burnett in A.R. Gurney's Love Letters(1990)
In 2003, he was awarded the Order of Canada, a lifetime achievement award from the Alberta Motion Pictures Industries Association, and an Award of Excellence from the the Alliance of Canadian Cinema, Television, and Radio Artists (ACTRA).
One of his two brothers, Erik Nielsen, was a prominent Conservative politician, representing the Yukon, and Deputy Prime Minister in the government of Brian Mulroney. Leslie Nielsen has two daughters, Thea and Maura, from his second of four marriages.
Profile by Gaetan Charlebois. Additional information provided by Jan McCourt, and Edmonton Journal 29 Nov 2010.A2.
Viewings: Life and Times: Leslie Nielsen, CBC, 2000, dir: Ken Jurenvill
Last updated 2010-11-29