Smits, Sonja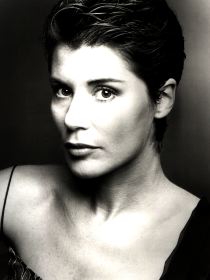 Sonja Smits
Ontario-based actor born in 1958, who has had a successful career in television, film and on stage. The daughter of Dutch immigrants, Sonja Smits grew up on a dairy farm near Ottawa, and studied at Ryerson theatre school, leaving to act in summer stock in Quebec City and in theatre across Canada. She then moved to television and film acting in Canada and the US, and is still perhaps best known for her starring role in the CBC series, Street Legal (1986-1992). She also played major roles in the series Traders (1996-2000), and The Eleventh Hour (2002-2005). Smits was the 2004 recipient of ACTRA Toronto's Award of Excellence.
On the Canadian stage, she starred in the much ballyhooed commercial production of the George F. Walker play, Nothing Sacred where she received excellent notices. Among her many other credits are leads in Summer and Smoke (Theatre Calgary, directed by Martin Kinch), Uncle Vanya (Theatre Calgary, dir. Kinch), Later (Toronto Free Theatre, dir. Susan Wright), and I'll Be Back Before Midnight (Tarragon Theatre, dir. Lewis Baumander).
In January 2000, she appeared in the premiere of Judith Thompson's Perfect Pie at Tarragon Theatre, and in December, 2000, in Eve Ensler's The Vagina Monologues at The Music Hall, in Toronto. In October 2009, for Nightwood Theatre, she played the role of an affluent alcoholic and drug-addicted mother, who poisons her children's lives with her controlling and erratic behaviour. In November 2011, she played opposite Eric Peterson in The Test for the Company Theatre at Berkeley Street Theatre in Toronto.
Sonja Smits' performances are marked by an electric stage presence and a vivacious spirit that underpins much of what she does. In 2004, she was awarded an ACTRA Award of Excellence.
She is married to Atlantis films co-founder Sean McLean, and has two children. With her husband she runs Closson Winery in Prince Edward County, near Lake Ontario.
Profile by Gaetan Charlebois and Anne Nothof.
Last updated 2021-10-25