Ulrich, Ron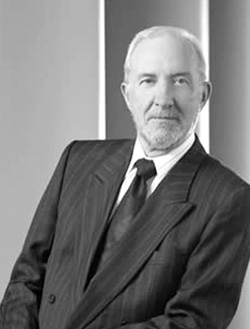 Ron Ulrich
Director, and artistic director of major theatres across Canada, with a penchant for popular American comedies and musicals. Ron Ulrich has a Bachelor of Arts from the University of Saskatchewan and is a graduate of the National Theatre School of Canada.
He was Artistic Director of Huron Country Playhouse in Grand Bend, Ontario (1983-1985); Artistic Director of Stage West Canada (1985-1993); Artistic Director of the Muskoka Festival, Gravenhurst, Ontario (1992-1994); Executive and Artistic Director of the Mayfield Theatre in Edmonton, AB (1994-2000).
He was Artistic Director of Halifaxís Neptune Theatre for eight seasons (2000-2008). He re-established the company as an integral part of the community, brought its subscription base and attendance to the highest levels in its history, and restored fiscal health by eliminating its operating deficit.
Ron Ulrich was Artistic Director of Theatre Aquarius from 2008 to 2020, overseeing its development as a major centre in Canadian theatre. He has directed numerous Aquarius productions, including three of the companyís most successful and highest-grossing shows of all time, Tuesdays With Morrie, The Rocky Horror Show and Buddy: The Buddy Holly Story.
He has directed shows across Canada at such venues as the Bastion Theatre, Citadel Theatre, Theatre New Brunswick, Kawartha Festival, Bathurst Street Theatre, Press Theatre, Persephone Theatre, Sudbury Theatre Centre, Sunshine Festival, Guelph Centre for the Arts, Oakville Centre for the Arts, Tellerís Cage, as well as the Ensemble Theatre in Cincinnati, and the Thorndyke Theatre in England.
He has won the Canada Council, Theatre Ontario, and Saskatchewan Arts Awards.
Source: Theatre Aquarius website
Last updated 2022-02-14