Cadieux, Anne-Marie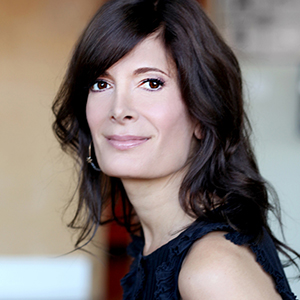 Anne-Marie Cadieux. Photo by Julie Perreault.
Actor born in Ottawa, Ontario September 23, 1963. Anne-Marie Cadieux studied theatre at the University of Ottawa.
Her first stage appearance was in 1983 in Les Belles-soeurs, directed by André Brassard at the National Arts Centre. Brassard also directed her in André Ricard's L'Année de la grosse tempête (NAC, 1984), and in Jean Genet's Les Bonnes (NAC, 1985).
She then worked extensively with Robert Lepage: as Lady Capulet in Roméo et Juliette (Nightcap Productions); and in Macbeth, Coriolan, and The Tempest (1992-93), which toured internationally, as did Lepage's Les Sept Branches de la rivière Ota (1994-97).
In 1994, she performed in and directed her own work, La Nuit (Théâtre de la Vieille), a dark and disturbing play that explores violence.
Cadieux then performed in the acclaimed production of Heinar Müller's Quartett at Espace Go, directed by Brigitte Haentjens in 1996. She worked again with Haentjens at Théâtre du Nouveau Monde/TNM in 1999 in Marie Stuart; in 2000, at Espace Go in Électre, and again at Espace Go, in May 2001, in Mademoiselle Julie.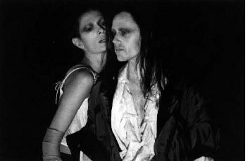 In 2019, she performed in Les larmes amères de Petra von Kant by Rainer Werner Fassbinder at Théâtre de La Veillée (Groupe [de] La Veillée, Espace de la Veillée). She played an aggressive, disenchanted mother in the premiere of Michel Marc Bouchard's Embrasse for the 70th anniversary of TNM in October 2021.
Cadieux has had a solid career in film as well (notably in the films of Robert Lepage).
Her sister, renowned artist Geneviève, is one of the favourite models for her work: "In Geneviève's images or in my work in cinema or theatre, we must show an intimate part of ourselves. Creation is intimacy revealed to the public" (Voir 31 March, 2000).
She lives in Montreal.
Readings: Luc Boulanger, "Un air de famille", Voir, 31 March 2000.
Profile by Gaetan Charlebois.
Last updated 2021-10-05