Campbell, Douglas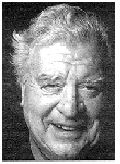 Magnificent character actor born in Glasgow, Scotland June 11, 1922, died in Montreal October 6, 2009. He is best known for his long association with the Stratford Festival.
Douglas Campbell came to attention almost as soon as the Festival began, and performed there between 1953 and 2001, playing 50 roles and contributing to 25 more productions as director, fight arranger, and choreographer. According to Christopher Plummer, he was the quintessential Falstaff. His many other roles include: Tyrone Guthrie's Oedipus Rex (1955) and Michael Langham's celebrated Henry V (1956). He has performed roles throughout the classical and modern repertoire, receiving accolades all along the way for his distinguished portrayals. His performance in John Hirsch's production of Tartuffe, in which he played Orgon, was particularly well-noted. He performed with Guthrie many times again at the Guthrie Theatre in Minneapolis and briefly was artistic director of the house. He worked, subsequently, in Los Angeles and in Great Britain.
In 1995 he returned to Stratford after a six-year absence to direct a well-received production of Wycherley's The Country Wife. His son, Benedict Campbell (a member of the Stratford ensemble for ten seasons) performed in the production. In 1998, Douglas Campbell directed the Stratford production of Julius Caesar and in 1999 The Alchemist. In summer 2000, he appeared with another son, Torquil, in the Bard on the Beach production of Henry IV, Part 1 (in which he also played Falstaff - it was the second time father and son had appeared with the company) and directed their production of The Tempest. Also in 2000, he appeared in Centaur Theatre's productions of The Crucible and The Gin Game.
In 2001 he appeared as Falstaff in Stratford's ambitious mounting of Shakespeare's Henry plays.
For the Shaw Festival, he appeared as Captain Shotover in Heartbreak House, and as Undershaft in Major Barbara, both in 1978, and directed Captain Brassbound's Conversion and Dear Liar in 1979.
Douglas Campbell was also artistic director for the Canadian Players, which he founded with Tom Patterson to keep actors from the Stratford Festival employed during the off-season. In 2002, he took over as artistic director at Piggery Theatre. He was awarded the Order of Canada in 1997.
His performances are marked by a clear joy in his art and by an attention to detail (particularly comic).
He is predeceased by his first wife, actor Ann Casson, the daughter of British acting luminaries Dame Sybil Thorndike and Sir Lewis Casson, and with whom he had four children. His second wife is actor Moira Wylie, with whom he had two children.
Profile by Gaetan Charlebois
Last updated 2013-07-30