Coates, Eric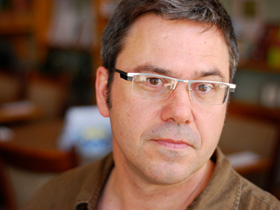 Eric Coates
Actor and director, born in 1963, a graduate of Ryerson Theatre School in Toronto, Ontario. Eric Coates first became enthusiastic about theatre after seeing a film documentary by Michael Ondaatje about The Farm Show: "Seeing the documentary was a seminal moment for me. It married theatre with rural life in a way that interested me then, and continues to interest me today."
He spent four seasons in the Company at the Stratford Festival from 1986 to 1989. He has acted in many of Canada's leading regional theatres including Grand Theatre, London, Neptune Theatre and Theatre New Brunswick, in addition to the Studio Arena (Buffalo, N.Y.) and Capital Rep (Albany, N.Y.).
Inspired by Paul Thompson, Coates' directing work at Blyth Festival began with the Young Company, under the Artistic Direction of Janet Amos. From 2003 to 2012, he was Artistic Director of Blyth Festival, where he premiered 28 Canadian plays. His directing credits at Blyth include Dear Johnny Deere (2012) by Ken Cameron, Vimy (2011) by Vern Thiessen, Queen Milli of Galt by Gary Kirkham, The Ballad of Stompiní Tom by David Scott, The Gingko Tree (2009) by Lee MacDougall, Iíll Be Back Before Midnight by Peter Colley, Having Hope at Home (2003 and 2012) by David S. Craig, and The Drawer Boy by Michael Healey.
Two play texts produced at Blyth were finalists for the Governor Generalís Award (Reverend Jonah by Paul Ciufo, and Innocence Lost, a play about Steven Truscott by Beverley Cooper.
In September 2012, Coates became Artistic Director of Great Canadian Theatre Company, where he continued the development and production of new Canadian plays. During the Covid-19 pandemic which closed theatres across Canada and around the world, his mantra was "stay calm, be brave, and interpret the signs," which he derived from Thomas King's CBC satiric radio program, Dead Dog Cafe. He resigned from the AD position in April, 2021 to engage in collaborative playwriting on the West coast.
He has also directed for Thousand Islands Playhouse and Drayton Entertainment Company. For CBC Radio, he directed The Train, broadcast live from Blyth Memorial Hall, and twelve episodes of The Morning Scoop.
Coates has appeared in several Canadian television series, television movies and the feature films Angel Eyes and The Pianomanís Daughter.
He has been a guest instructor for St. Clair College Performing Arts and he served on the advisory committees for Ryerson Theatre School. He has adjudicated Sears Drama Festivals for the Avon Maitland and Wellington County School Boards, and adjudicated the Western Ontario Drama Leagueís festival entries.
Source: Great Canadian Theatre Company website
Profile by Anne Nothof, Athabasca University
Last updated 2021-04-27