Cohen, Nathan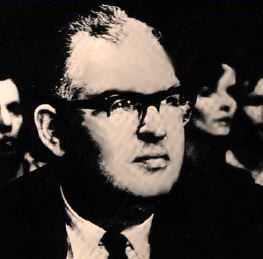 Samuel Nathan Cohen
Theatre critic, born Samuel Nathan Cohen to Polish immigrants in Sydney, Nova Scotia in 1923, died in Toronto, Ontario in 1971. He is considered to be the godfather of modern Canadian theatre criticism, and an award was named in his memory by the Canadian Theatre Critics Association.
He entered Mount Allison University in 1939 acted and directed there and edited its newspaper. After studying law at the University of Toronto, he returned to Nova Scotia and edited the Glace Bay Gazette, a miners' paper. In the mid-40s he wrote for communist newspapers in Toronto, and eventually edited the journal The Critic. His first theatre review appeared in Wochenblatt; it was for the New Play Society production of Ah! Wilderness directed by Andrew Allan. Soon afterwards, he attracted the attention of Mavor Moore, who brought him to CBC. He appeared as a critic on radio and then was story editor for the network (1956-58).
Though he worked for the Toronto Star (from 1959 to 1965), Nathan Cohen was one of the first critics to travel the country and review performances seriously. He believed that a professional Canadian theatre was emerging and had surpassed the amateur and Little Theatre status others were still conferring upon it.
Cohen's style was as enthusiastic as it was occasionally merciless, for he refused to judge Canadian output more gently than the works he saw abroad or the touring productions that continued to come to Canada from the United States, France and Great Britain. He championed new forms of theatre and encouraged Canadians to patronize difficult and experimental works. The tone of his work permitted the balance of style and erudition of many present-day critics including Robert Lévesque (late of Montreal's daily Le Devoir and then with Radio-Canada).
In 1947, he married Gloria Brontman, an assistant editor of the magazine Canadian Woman.
In 1981, Rick Salutin created a play called Nathan Cohen; A Review (premiered at Theatre Passe Muraille, directed by Paul Thompson).
An archival collection on this subject is available at the L.W. Conolly Theatre Archives at the University of Guelph, Ontario and at the Toronto Reference Library.
Readings: Wayne E. Edmonstone. Nathan Cohen:The Making of a Critic. Toronto: Lester and Orpen, 1977.
Don Rubin. "Criticism in a Canadian Social Context: Nathan Cohen's Theatre Criticism, 1946—1971", Establishing Our Boundaries: English-Canadian Theatre Criticism. Ed Anton Wagner. Toronto: University of Toronto Press, 1999.
Profile by Gaetan Charlebois
Last updated 2018-06-29