Coquereau, Patrice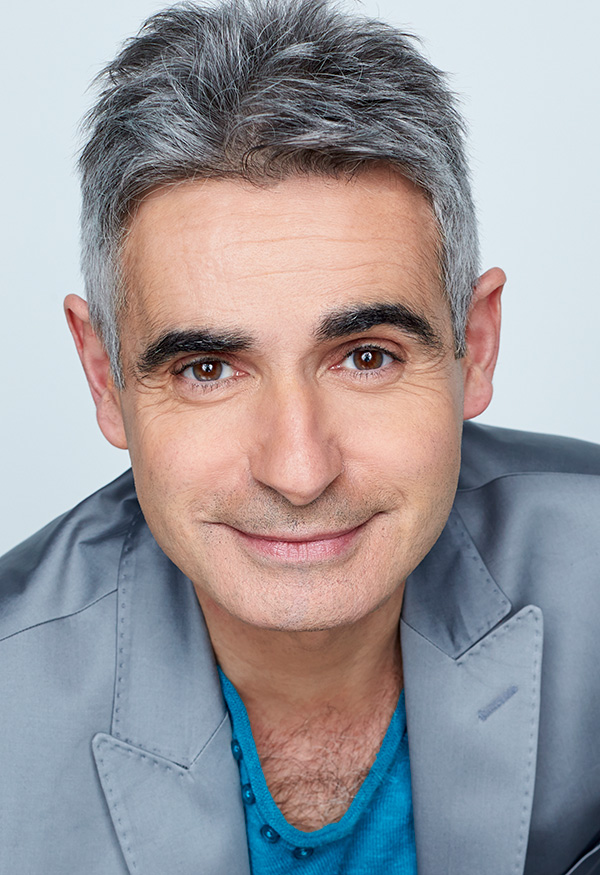 Patrice Coquereau. Photo by Julien Faugère.
Bilingual, Quebec-based actor, director, and author. Patrice Coquereau was born April 8, 1961, the son of French immigrants. He studied at the University of Ottawa and then at the National Theatre School of Canada where he graduated in 1986.
Since then, he has acted in over seventy-five productions, often with Denise Filiatrault, notably in her Just For Laughs' productions of Picasso au Lapin Agile, Le Bourgeois gentilhomme and Les Palmes de M. Schultz.
He won at the Masques Awards for best supporting actor for his performance in René Richard Cyr's 1996 production of Rhinocéros (Nouvelle Compagnie Théâtrale / Théâtre Denise-Pelletier), and also appeared in the 1997 Théâtre du Nouveau Monde production of Le Misanthrope. He appeared in the Théâtre Petit à Petit production of Geneviève Billette's Crime contre l'Humanité (October, 1999); the Théâtre d'Aujourd'hui premiere of René Gingras's Jacynthe de Laval (January, 2000); the Théâtre de Rougemont production of Stephen Levi's Marie-toi, Maman/Getting Mamma Married (June, 2000); and in the Éternels Pigistes production of Pierre-Michel Tremblay's Le rire de la mer (January, 2001).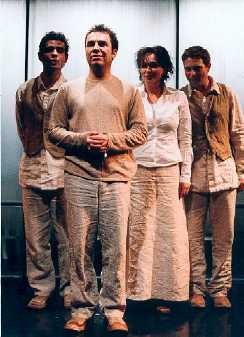 Patrice Coquereau (l) in the 2001 Éternels Pigistes production of Pïerre-Michel Tremblay's Le Rire de la mer (Photo: Pierre Desjardins)
Though he is blessed with leading-man looks, Patrice Coquereau has exquisite comic timing and a mobile face. His performance in several buffo roles in the 1998 production of Pierre-Michel Tremblay's Quelques humains at Théâtre la Licorne proved as much.
He has also appeared extensively in film and television.
Patrice Coquereau also gives lectures on anxiety, and in 2014 published a book entitled Guérir à gorge déployée. In the summer of 2019, he undertook a 570 km walk along the St. Lawrence River to raise awareness about anxiety-related problems. When the Covid-19 pandemic closed theatres in Quebec and across Canada in 2020, he spent his time pulling weeds, which he found therapeutic.
Website: https://patricecoquereau.com
Profile by Gaetan Charlebois and Anne Nothof.
Last updated 2020-11-17