Cox, Susan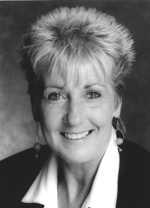 Ontario-based actor/director/teacher, with a three-decade career. She was born in Liverpool, England in 1943; died in 2016. Susan Cox studied at Manchester University and performed extensively in British theatre before coming to Canada.
Among her acting credits is the Elizabeth Sterling Haynes Award-nominated performance as Maria Callas in Masterclass (Citadel Theatre, 1998). She also performed at the Shaw Festival, Stratford Festival, the Royal Alexandra Theatre, and in her one-woman show Valentine Browne: Live (for which she won a Dora Mavor Moore Award).
She directed at the Shaw Festival (Eden End, Charley's Aunt, On The Town, Blithe Spirit among others), Citadel Theatre (Waiting for the Parade), Theatre New Brunswick, Firehall Theatre, Toronto, and in Great Britain.
From 1993 to 1998 she was artistic director of Vancouver Playhouse; there she directed Born Yesterday, The Heiress, Who's Afraid of Virginia Woolf? among others. She was Artistic Director at the National Arts Centre Atelier (1982-83), at Actors' Repertory Theatre (Toronto), and at the Regent Theatre in Picton, Ontario.
She taught at Ryerson, at the acting school for the Vancouver Playhouse and at the National Theatre School of Canada.
She also appeared on television and in film.
Last updated 2020-11-17