Sutto, Janine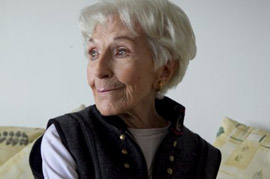 Janine Sutto
Popular Quebec-based actor born in Paris in April 20, 1921. Her family moved to Canada in 1930. She died on March 28, 2017 in Montreal.
Janine Sutto worked in film, television, radio and theatre for nearly six decades since making her début at the Arcade in 1940. She went on to perform with the Montreal Repertory Theatre.
She was one of the original actors with the ensemble of the Théâtre du Nouveau Monde/TNM. She also performed frequently with the Comédie-Canadienne (notably in the premiere of Marcel Dubé's Les Beaux Dimanches), Équipe (which she co-founded) and the Théâtre du Rideau Vert (notably in La Reine morte, 1958; Les amants terribles, 1964; Croque-monsieur, 1966; Le bal des voleurs, 1975; L'Impresario de smyrne, 1977; Accapulco madame, 1982 among others).
She performed in the René Richard Cyr revival of Michel Tremblay's En pièces détachées at the TNM (1994), in Gratien Gélinas' Bousille et les justes (Théâtre du Vieux Terrebonne, 1996) and in the world premiere of Antonine Maillet's Le Tintamare (Théâtre du Rideau Vert, April, 1999). She also appeared in the world premiere of Jean-Pierre Boucher's Les vieux ne courent pas les rues (Théâtre d'Aujourd'hui, March, 2000).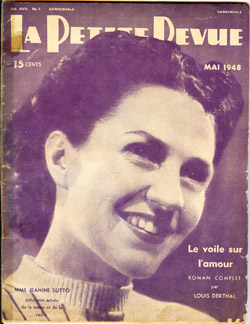 A favourite of Quebec audiences, Janine Sutto had a monumental presence even as she explored the fragility of the character she was playing. She was married to theatre personalities Pierre Dagenais and Henry Deyglun and was the mother of twins including actor Mireille Deyglun.
Viewings: Les Trois soeurs, Radio-Canada, 1963, dir: Paul Blouin, a television production of the Chekhov play,featuring Sutto.
Source: Jean Beaunoyer, "L'art de ne pas vieillir," La Presse, Montreal, 7 July 2001.
Profile by Gaetan Charlebois
Last updated 2020-02-27