Koo, Camellia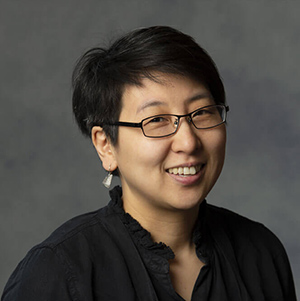 Camellia Koo
Toronto-based set and costume designer for theatre, opera, and ballet, Camellia Koo was born in London, England. She has a Master of Arts- Scenography from Central Saint Martin's College of Art and Design, UK 2002, and at Hogeschool de Kunsten van Utrecht, The Netherlands. In 1999, she graduated from Ryerson Theatre School, Ryerson University in Toronto in the Theatre Technical Production Program.
Camellia Koo has designed expressive, symbolic, minimalist sets for productions across Canada for nineteen years, using shapes and colours to evoke themes and images, and working with experienced and innovative Canadian directors. For the Shaw Festival in 2018, she covered the open stage in the Jackie Maxwell Theatre with Indian carpets to evoke a home which is gradually dismantled in The Orchard (After Chekhov) (dir. Ravi Jain). Other credits for Shaw include sets and costumes for The Baroness and the Pig and Henry V (2018), Middletown (dir. Meg Roe 2017), The Adventures of the Black Girl (dir. Ravi Jain 2017), The Lady from the Sea (dir. Meg Roe 2015), When the Rain Stops Falling (dir. Peter Hinton 2011), Topdog/Underdog (dir. Philip Akin 2011); and sets for The Sea (dir. Eda Holmes 2015), Peace in Our Time (dir. Blair Williams 2013), One Touch of Venus (dir. Holmes 2010), In Good King Charles's Golden Days (dir. Holmes 2009), and The Stepmother (dir. Jackie Maxwell 2008).
Koo has also designed for the Stratford Festival (The Changeling dir. Jackie Maxwell 2017, and Oedipus Rex, dir. Daniel Brooks 2015); National Arts Centre (carried away on the crest of a wave, dir. Kim Collier 2018); Factory Theatre/Obsidian Theatre Company (Gravitational Pull of Bernice Trimble, dir. Philip Akin 2013); Tarragon Theatre (The Message 2018, Wormwood 2015, and This is War 2012, all directed by Richard Rose, Mimi 2009 and East of Berlin 2007, both directed by Alisa Palmer). For Buddies in Bad Times she designed set and costumes for 20th of November (dir. Brendan Healy 2015); and The Wanderers (dir. Nina Lee Aquino 2014). Her credits for Cahoots Theatre Projects include Bhopal (dir. Guillermo Verdecchia 2003) for set, and Mother Tongue (dir. Verdecchia 2001) for costumes.
Opera credits include: Minnesota Opera; Edmonton Opera (The Tales of Hoffmann, Maria Stuarda, Carmen, Hansel & Gretel, HMS Pinafore, and Count Ory 2019); Pacific Opera Victoria; Boston Lyric Opera; and Tapestry New Opera. For the Against the Grain production of The Rape of Lucrece (Banff Centre for the Arts dir. Paul Curran 2016), she designed a desert landscape of rock and soil to suggest the elemental and brutal sexual conflict in Benjamin Britten's opera.
Among her many awards are six Dora Mavor Moore Awards for The Wanderers (2014), The Ugly One (Theatre Smash 2011), East of Berlin (2008), The Sheep and the Whale (Modern Times Stage Company/Cahoots, dir. Soheil Parsa 2007), Bombay Black (Cahoots, dir. Brian Quirt 2006); a Sterling Award (East of Berlin, Theatre Network 2008); and a Chalmers Award. In 2006, she was given the Siminovitch Protégé Prize; and in 2016 the Virginia and Myrtle Cooper award for costume design. In 2018, she was shortlisted for the Siminovitch Prize in Theatre for Design.
On her website, Camellia Koo articulates her design philosophy: "In my design process, I aspire to be honest, genuine and truthful to the narrative. Working closely with my director and also my fellow designers, I strive to go deeper narratively and psychologically to find what drives the story and characters. What is making these characters do what they are doing and why are we watching this story now? Audiences are extremely well rounded and very intelligent, and can handle seeing realism subverted or exploited to achieve symbolism and a different level of understanding of a performance. This understanding contributes to how they experience a performance and makes them equal collaborators in the final dramaturgy of a work. Through design, I aim to transform the audience into active viewers."
Website: www.ckoodesign.com
Profile by Anne Nothof, Athabasca University
Last updated 2020-02-25