Laberge, Marie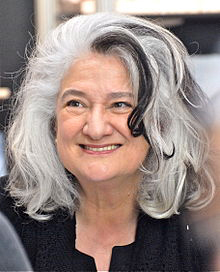 Marie Laberge
Popular and prolific playwright, novelist, actor, and director, born in Quebec City, Quebec November 29, 1950. Marie Laberge was the fourth of seven children, six of whom were girls. Her father was a Professor of Greek and Latin who became Secretary General of l'Université Laval.
While at the school of journalism at Laval University, Marie Laberge participated in the collective creation of the Troupe des Treize. She then went to the Conservatoire d'art dramatique de Québec and began a career as actor and drama teacher.
She was administrator for the Théâtre du Trident and the Centre des auteurs dramatiques (of which she was president from 1987-89).
Marie Laberge has written over twenty plays, produced in Quebec and in Europe. In 1981 she won the Governor General's Award for C'était avant la guerre à l'Anse a Gilles (performed by the Nouvelle Compagnie Théâtrale / Théâtre Denise-Pelletier, 1981, translated into English by Alan Brown as Before the War, Down at l'Anse à Gilles,Toronto Free Theatre, 1986; also translated by John Murrell). It portrays the struggle of a young widow who attempts to free herself from the oppression of Quebec village life in the 1930s.
Her work L'Homme Gris (Théâtre du Vieux Québec, 1984, translated by Rina Fraticelli as Night), merited her a knighthood from the Ordre des art et des lettres of France in 1989. In 1997, during a revival of one of her plays in Montreal, Laberge, in interview, showed a certain disenchantment with the machinations of theatre production.
Other plays include: Profession: je l'aime (Théâtre du Vieux Québec, 1979), Éva et Évelyne (Vieux Québec, 1979), Ils étaient venus pour... (Théâtre du Bois de Coulonge, 1981), Jocelyne Trudelle trouvée morte dans ses larmes (Commune à Marie, Quebec City, 1986), Oublier (Théâtre National de Belgique, 1987; Comédie-Française, Paris, 2000), Le Night Cap Bar (Théâtre de la Manufacture, 1987), Aurélie, ma soeur (Théâtre du Trident, 1988, translated into English by Rina Fraticelli under the same name and also into Lithuanian), Le Faucon (Compagnie Jean-Duceppe, 1991, and Théâtre international de langue Française, Paris, 1996; revived in February, 2000, by Théâtre Français de Toronto).
Laberge has written nine novels, most of which, like her plays, focus on women in a personal and/or social crisis. Her trilogy, Le Goût du Bonheur, examines a changing Quebec society over forty years, beginning in the 1930s. The series has been very popular, selling over 500,000 copies.
Website: Gaetan Charlebois.
Last updated 2021-02-26