Labrèche, Marc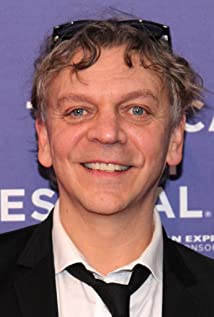 Marc Labrèche
Magnificent Quebec-based character actor born November 20, 1960 in Montreal, Quebec. He is the son of the late actor/director Gaétan Labrèche.
He studied philosophy at the Université de Montréal before launching into a theatre career at 18, playing the title role in Harold et Maude opposite Yvette Brind'Amour (Théâtre du Rideau Vert).
Since then, he has performed in Bernard Slade's Chapeau/Tribute (1981, Rideau Vert), Pied de Poule (1983), Les Fourberies de Scapin (Théâtre du Nouveau Monde, 1986), Les Fausses confidences (Rideau Vert, 1988), Gala (Place des Arts, 1989), La Mandragore (Théâtre du Vieux Terrebonne, 1992), Frankenstein (which he co-wrote with Richard Gohier, Nouvelle Compagnie Théâtrale / Théâtre Denise-Pelletier, 1992), among others.
He took over the solo role in Robert Lepage's Aiguilles et opium which he performed world-wide in French and English.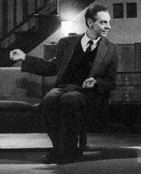 Marc Labrèche in the 1996
Théâtre de Quat'Sous
production of David Mamet's
Le Cryptogramme/The Cryptogram
Marc Labrèche has also had a very solid career in film and especially in television, where he was featured in the most popular series in the history of franco-Canadian television, La Petite Vie (1993-99). He also had a well-known comic current event television series.
His performances are marked by a supreme command of character detailing and a gigantic energy.
He was married to Fabienne Dor, who died of cancer in 2005, and has two children, one of whom, Léane Labrèche-Dor, is an actor for theatre and televsion.
Profile by Gaetan Charlebois.
Last updated 2021-02-26