Lebeau, Pierre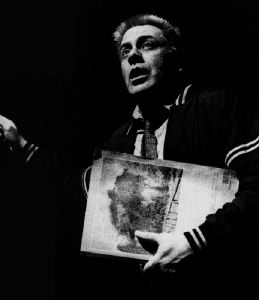 Quebec-based character actor, born July 22, 1954, and a graduate of the National Theatre School of Canada/NTS (1975).
Pierre Lebeau has acted frequently with Denis Marleau's Théâtre Ubu including in Les Ubs, Luna Park, La Cantate Grise, Merz Opéra, Woyzeck and the high-visibility productions of Roberto Zucco (starring Henri Chassé, co-produced with the Nouvelle Compagnie Théâtrale / Théâtre Denise-Pelletier, and presented at the Festival de Théâtre des Amériques - now Festival TransAmériques- 1993); and Lulu (starring Sylvie Drapeau and co-produced with the Théâtre du Nouveau Monde/TNM, 1996).
He also acted in the 1993 Nouvelle Compagnie Théâtrale / Théâtre Denise-Pelletier production of Eddy. In 1997, he pulled off a magnificent tour de force in the title role of Cyrano de Bergerac (for the TNM). In 1998 he undertook the difficult lead role in Claude Gauvreau's Les Oranges sont vertes (TNM), and two months later was playing Lenny in Des souris et des hommes/Of Mice and Men (1999, Nouvelle Compagnie Théâtrale / Théâtre Denise-Pelletier. In January 2000 he appeared at the TNM in L'Odysée. In February 2001 he played the title character in the TNM production of Macbeth and performed the solo role, in May, at Quat'Sous in Alessandro Baricco's Novecento.
Since 1995, Pierre Lebeau has also performed on television and in film, notably in the popular series Les Boys (1997-2006) with Rémy Girard.
He has said about his beginnings, "It was very simple. I said to myself that this trade was for me, that I could do it even if I had never played in a theatre. As a child, the cinema always fascinated me enormously. So I went to get the forms at the NTS, requested entry and was accepted" (Presse Canadienne, 22 March 2000).
In October, 2000, he received the Capital Critics Circle award for best actor for his performance in L'Odysée.
Profile by Gaetan Charlesbois
Last updated 2021-03-08