Mallette, Nathalie
Nathalie Mallette
Quebec-based actor, born May 27, 1965, a 1989 graduate of the Conservatoire d'art dramatique de Montréal.
Since leaving school Nathalie Mallette has been very active in film and television and on stage. She has worked with Martine Beaulne (Pierre ou la Consolation, Café de la Place des Arts), René Richard Cyr (L'Opéra de Quat'Sous/Threepenny Opera at Théâtre du Nouveau Monde), and the mega-hit production of Goldoni's La Locandiera (Théâtre du Nouveau Monde, directed by Beaulne) for which she won the award for best supporting actress at the 1993 Masques Awards.
She also appeared in the stunning Théâtre de Quat'Sous production of David Mamet's Oleanna, opposite Germain Houde, directed by Micheline Lanctôt.
In 1996 she performed in the farce Zaza d'abord, Théâtre des Grandes Chênes (and in its cross-provincial tour in 1997), with Martin Drainville. In 1999, she performed in George F. Walker's Le génie du crime/Criminal Genius at the Quat'Sous, and in WC at Espace Go. More recently, she appeared as Martine in Les muses orphelines at Compagnie Jean-Duceppe (2013); and as Evelyne in Le Concierge at Théâtre Beaumont St-Michel (2017).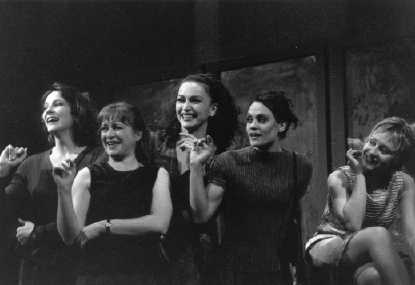 Nathalie Mallette (r) in the 1999 Trans-Théâtre production of WC by Brigitte Poupart and Marie Michaud (photo: Céline Lalonde)
She has acted on television for thirty years. Recent engagements include the role of Ariane Lesage in 30 vies (2016); Rachel Dumont in Yamaska (2014); and Dominique in Histoires de filles (2008).
With her partner of twenty-five years, Robert Bellefeuille, she has a teenage daughter.
Profile by Gaetan Charlebois. Additional information provided by Karine Tremblay.
Last updated 2021-04-15